Easy DIY yarn hearts that anyone can make. Simple valentine craft that can be displayed as valentine decor.
It is no surprise that Valentine's Day is a favorite for kids and adults. Treats, cards, and candy oh my!! I, as a mama, enjoy an easy crafting session that doesn't involve a lot of work, mess, and in this particular holiday, candy. This is a super simple DIY yarn heart valentine craft. Little supplies needed, a perfect craft to do with kids and display as Valentine decor.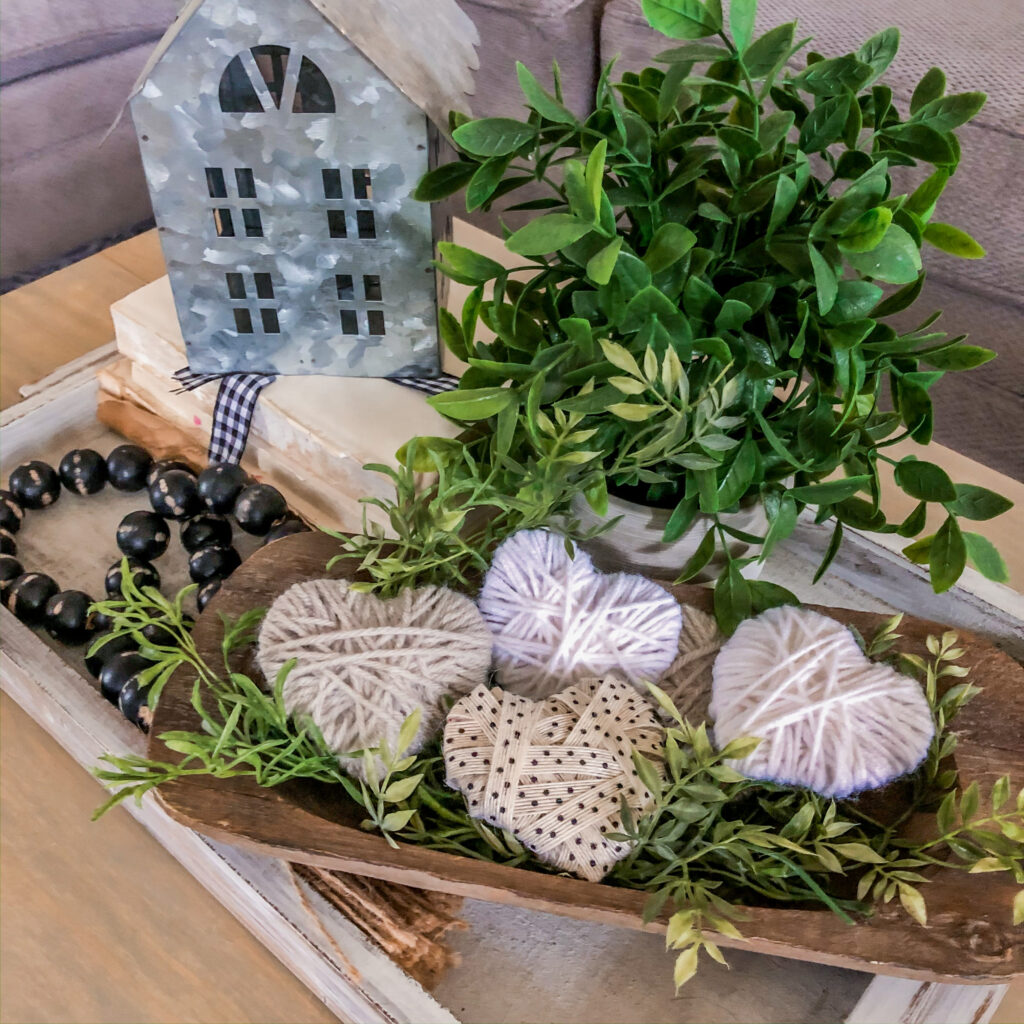 This post contains affiliate links, which means I receive a commission if you make a purchase using the links below.  All opinions are all my own.
My little loves to do crafts and I am all about activities that keep her away from video games and screen time. We made these cute yarn hearts a few years ago on a rainy Saturday. She was 5 years old at the time and she thought the craft was easy and fun. Any kid craft that doesn't require paint or glitter is my jam 😉
Supplies needed for Yarn Hearts
cardboard – (use a box that was ready to go in the recylcle bin)
pencil
scissors
yarn (not the chuncky kind)
tape or glue
Yarn Hearts
Start by making a heart template. Our hearts were 3 inches big. I folder a piece of paper made half a heart, and cut it. Your child can do the tracing on the cardboard. Looking back I wish I had taken pictures of this process but it was pretty simple. I cut the hearts out with some sharp scissors. Depending on your child's age and the cardboard you are using, you might want to take over the cutting.
Once the hearts are cut out the fun begins. First, start by taping the end of the yarn to the middle of the heart and start wrapping. Wrap the yarn around snugly and change directions in wrapping until the cardboard is no longer visible. Once the heart is completely covered in yarn you can cut and either tie or glue it in place.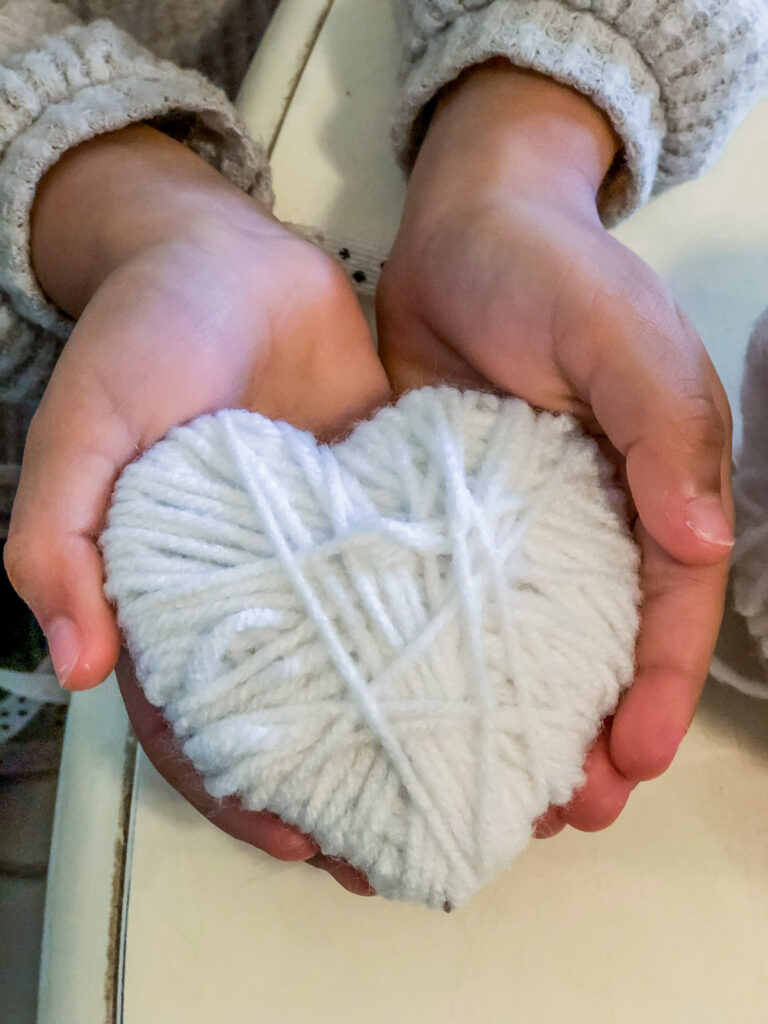 I got my little excited about these colors because they matched her top. She hates my boring neutral life 😆 She thinks some pinks or reds would be much more festive for Valentine's day, but this is the yarn I had on hand.
Displaying yarn hearts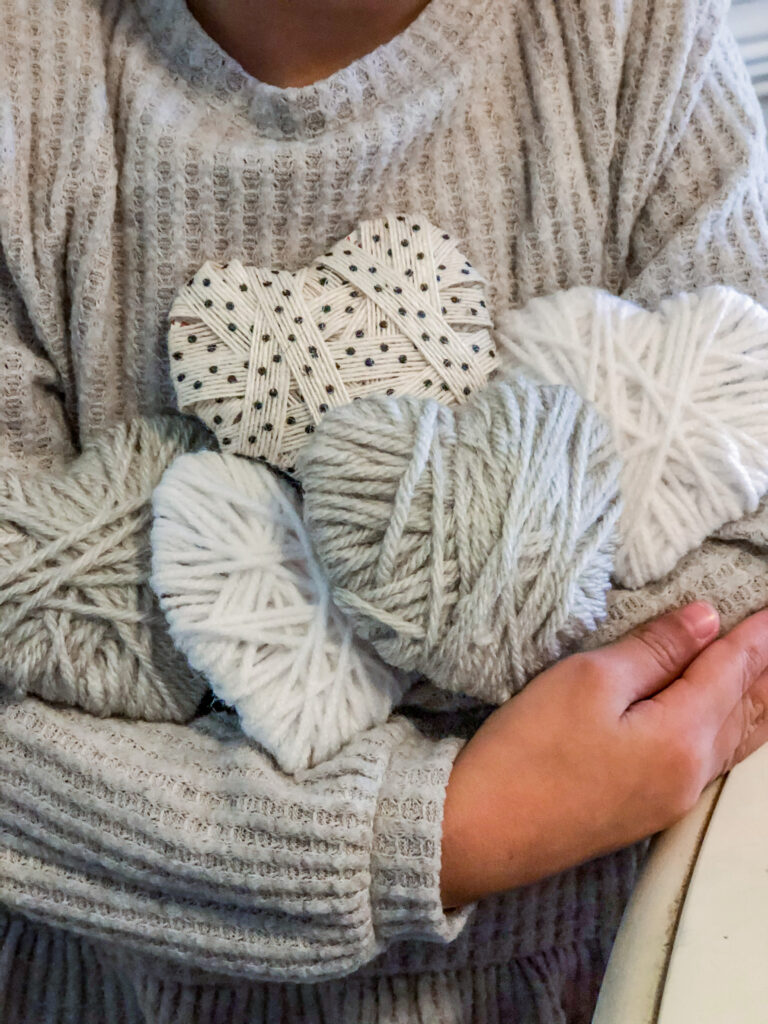 She found the polka dot ribbon and wanted to make a heart with it. The ribbon wasn't as easy to wrap. I helped her keep it snug in place the yarn works better. I love these chubby hearts. They are full of texture and make great fillers for bowls and trays.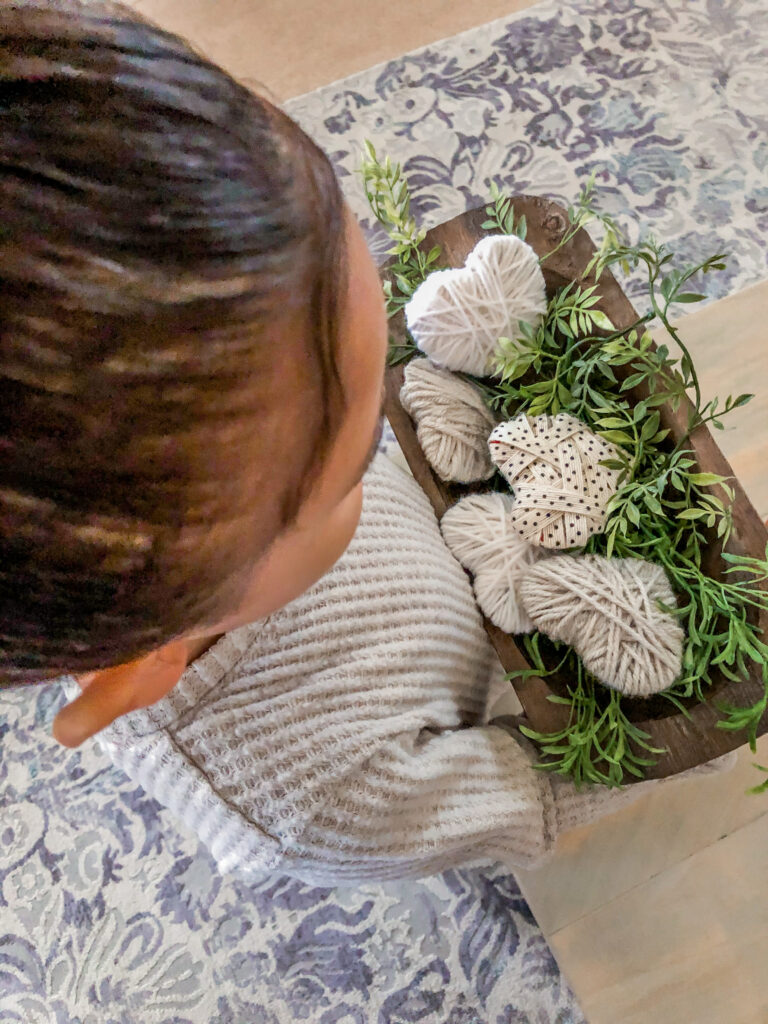 This mini dough bowl held these hearts perfectly. I placed some greenery at the bottom and she added the yarn hearts on top. She was so proud to put them on our coffee table for Valentine's day. Here are more bowl and tray options.
shop for some bowls and trays
Yarn hearts on a bowl made by your kid…It doesn't much cuter!! This valentine craft was so easy and fun for all involved. It is definitely not just for kids. And speaking of yarn…take a look at these fun valentine crafts as well.
More heart/yarn crafts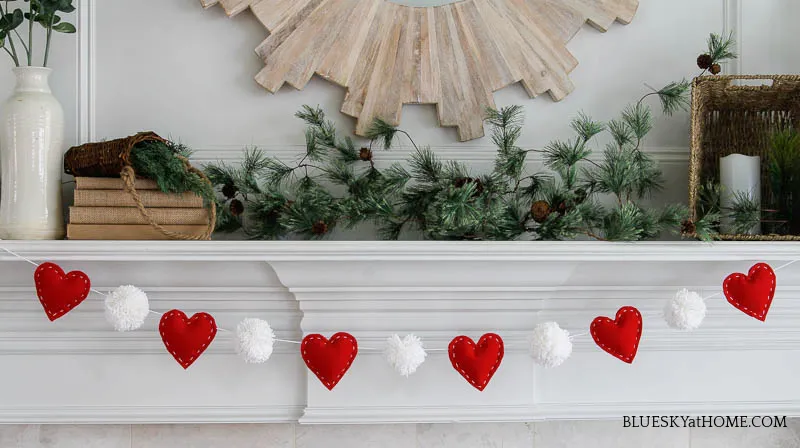 If you love hearts, vintage, and decorating for Valentine's day then you will fall in love with my friend lInda's air dry clay heart garland.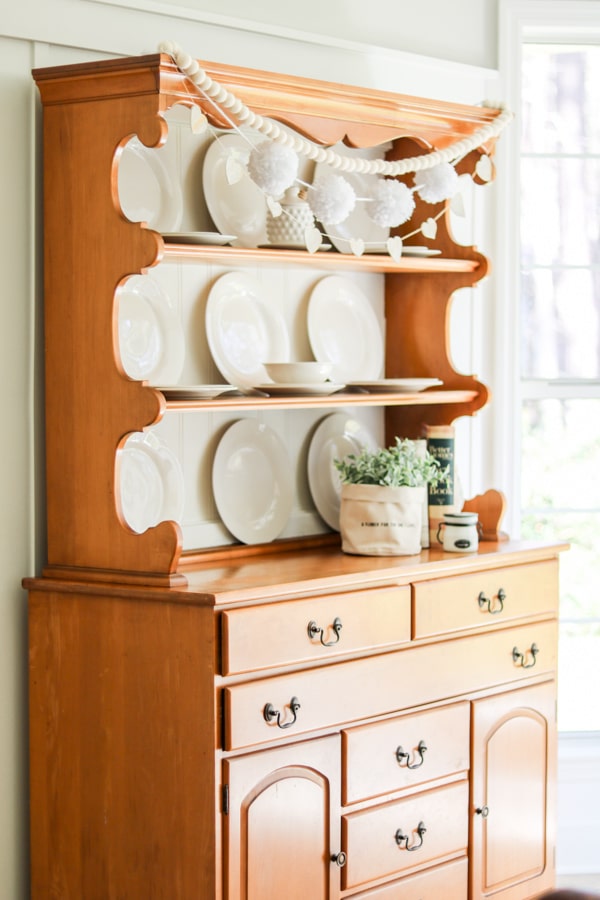 Happy heart crafting!! Let me know if you make any of these crafts and more importantly let my little know if you used some pinks and reds ☺️😆