Learn how to make faux wood hearts with Dollar Tree valentine's containers. These hearts look so real and they make great fillers for your bowls and trays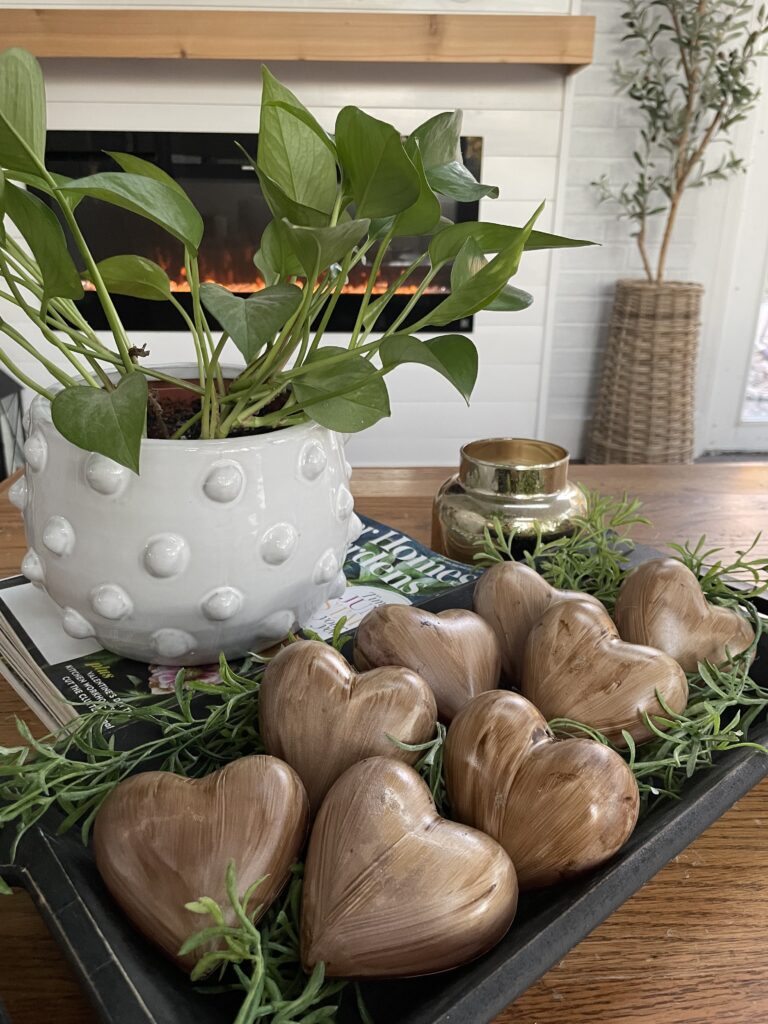 This post contains affiliate links, which means I receive a commission if you make a purchase using the links below.  All opinions are all my own.
It's mid-January and it feels like I have finally put the house back in order after the holidays. It's always so fun to put out Christmas decor but such a chore to put it all away. We store our seasonal decor in the attic. As I organize and put away our decor bins I am looking for and moving forward the next season or holiday. Valentines day is right around the corner so I grabbed the small bin and brought it down.
I don't go crazy with Valentine's Day decor. Just a few pieces to make me and our girls smile through these dreary months. I usually add some small items to the entry and coffee table that will blend in with our neutral decor. While I was styling our coffee table with the hearts (see that post here) my daughter and I made a few years ago I got an idea. I remember eyeing some cute wood hearts at a boutique store. Having both textures in a bowl would be interesting. I quickly did an amazon search for wood hearts and found these.
The splurge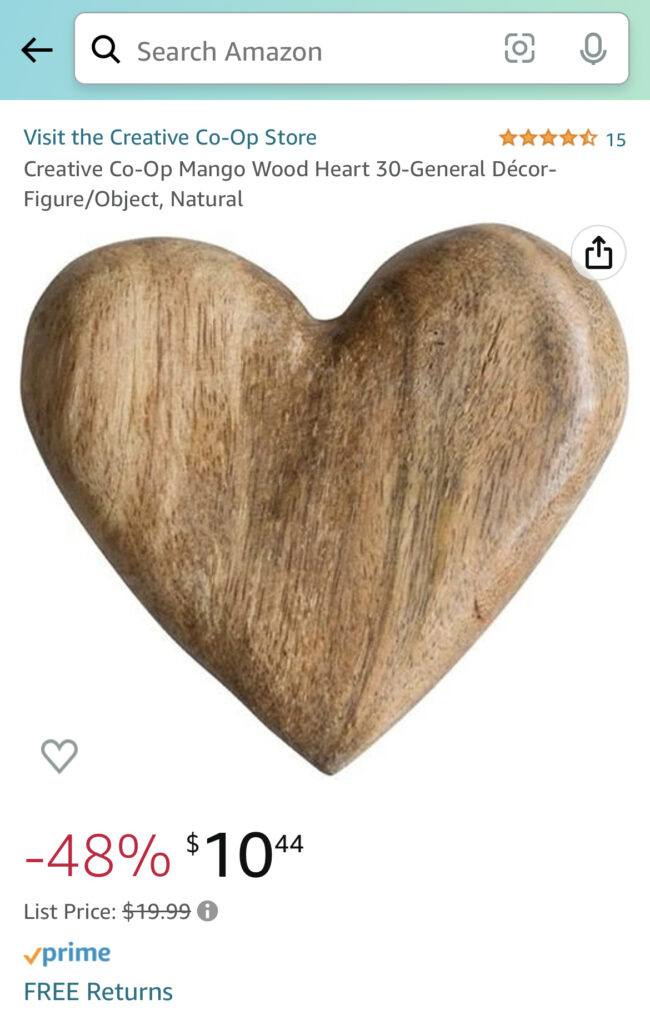 Even on sale, they are $10 apiece. My ideas usually stem from being so thrifty and this my DIY version of these mango wood hearts.
The DIY
Off to the Dollar Tree to see what they had. These Valentine containers are a perfect size. Can't go wrong with 4 for $1.25. I purchased three sets.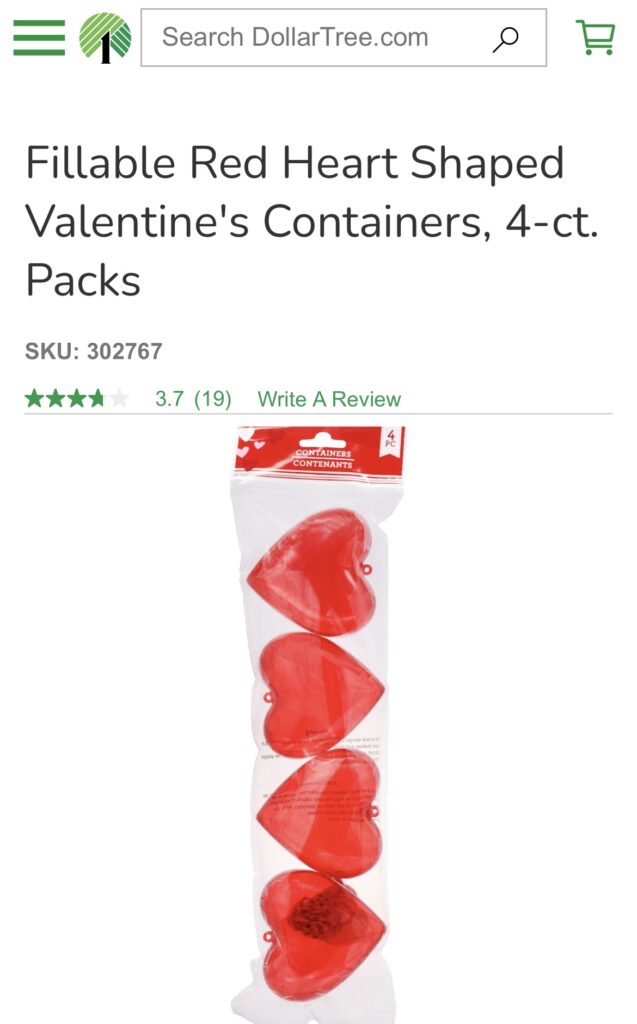 I used some nippers and cut the little circle for tags. A big nail clipper would also do the trick. The little plastic piece came right off. I cracked the heart on a few of them but I figured it would add to the character of the fake wood.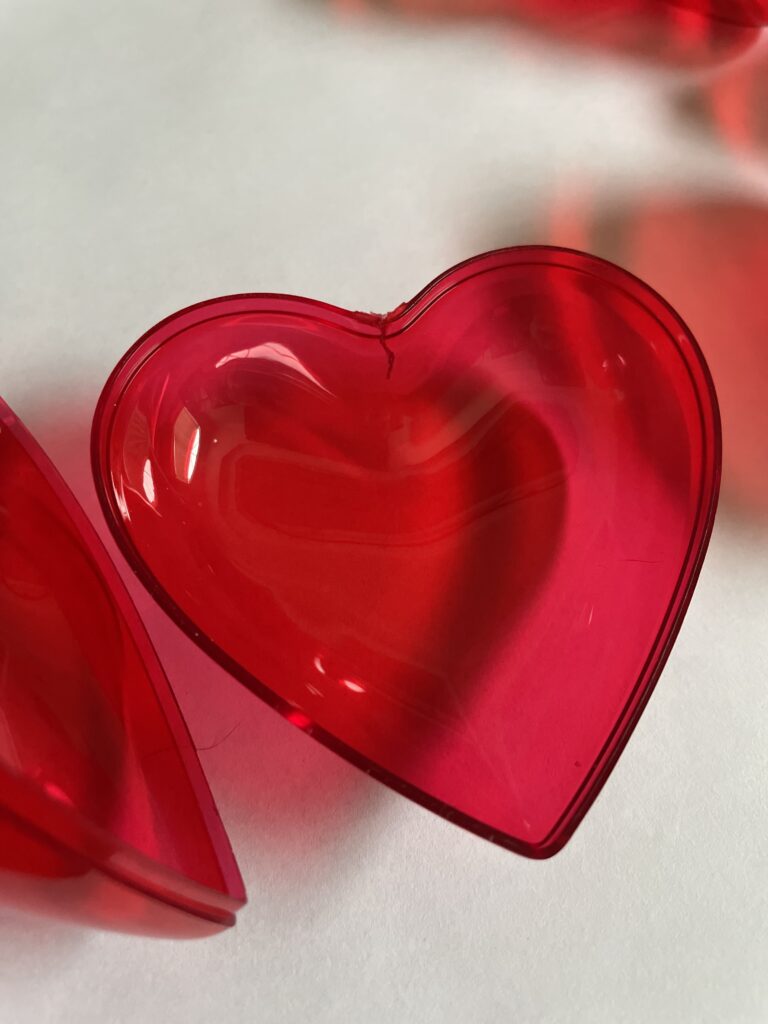 Once the hole was removed I grabbed my hot glue gun to glue the pieces together. Looking back I guess I could have glued a couple of rocks in the heart to give it some weight. Just an idea if you want the hearts to be slightly heavier.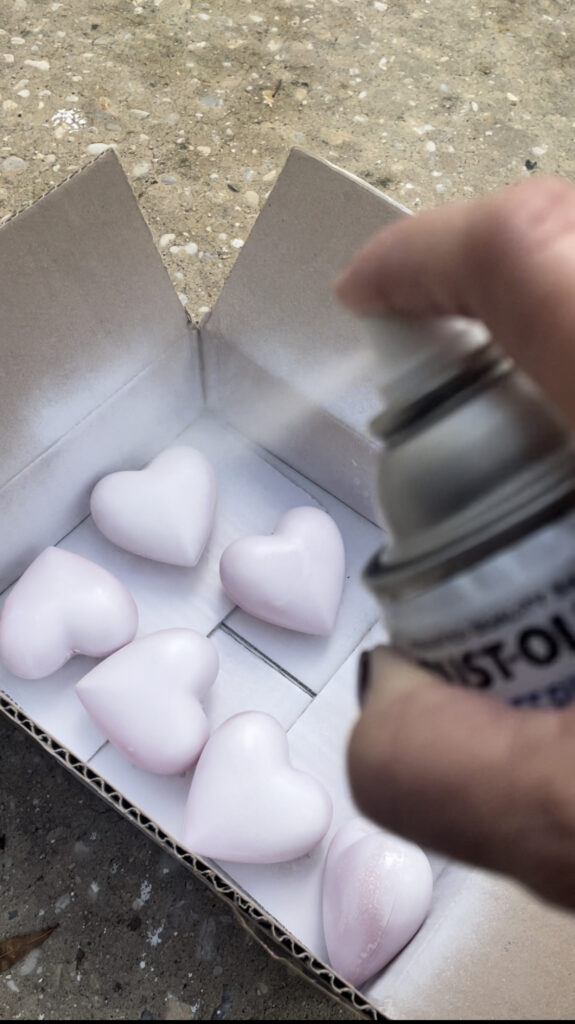 Once the hearts were glued together I gave them a quick spray with matte white spray paint The coat doesn't have to be perfect. The more imperfections the more it will look like wood. A quick coat to get the red covered will be just fine.
Now that you have a blank heart canvas this is where the fun begins with the gel stain and magic eraser. If you have never worked with gel stain I highly recommend it. Gel stains provide a rich, uniform color on wood and non-wood surfaces, such as metal, veneer, and fiberglass. I usually have a can in the garage. A little goes very far. Linking a small bottle of gel stain HERE. Now to the the magic erasers, the generic ones work great too. I will be writing a post about magic erasers and wood staining really soon. Here is a reel a posted on Instagram to give you an idea.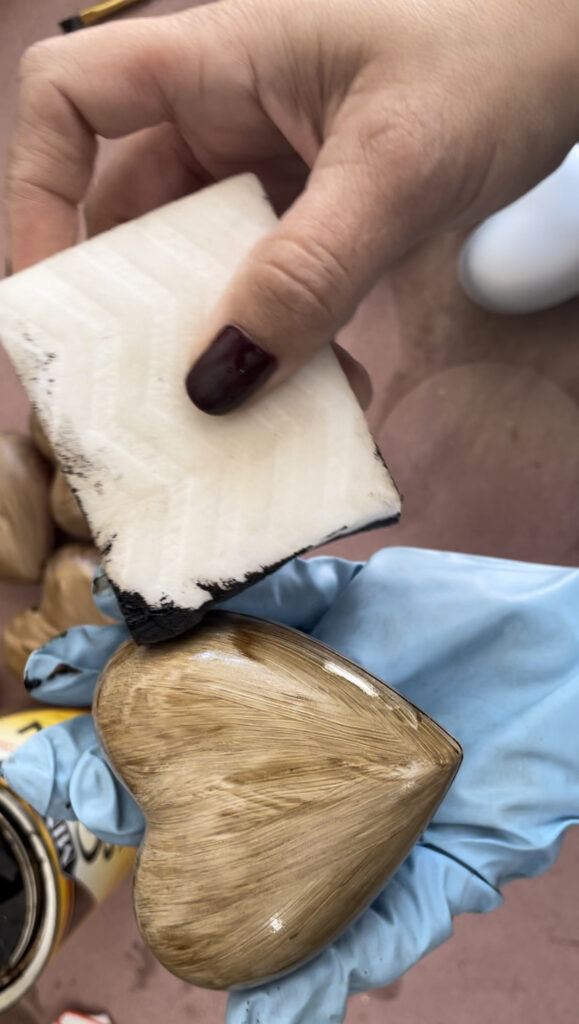 Working with half the heart using the seam as guidance, start staining the heart with the gel stain. Going around the heart and then up and down to add the "grain" seemed to work the best. Play with the stain and get creative. No two pieces of wood are the same so you can't go wrong.
This process didn't take long. I did the half of the 12 hearts in like 20 mins. I waited until the next day to work on the other half. When you are finished and the hearts are dry you are left with the most realistic-looking wood hearts.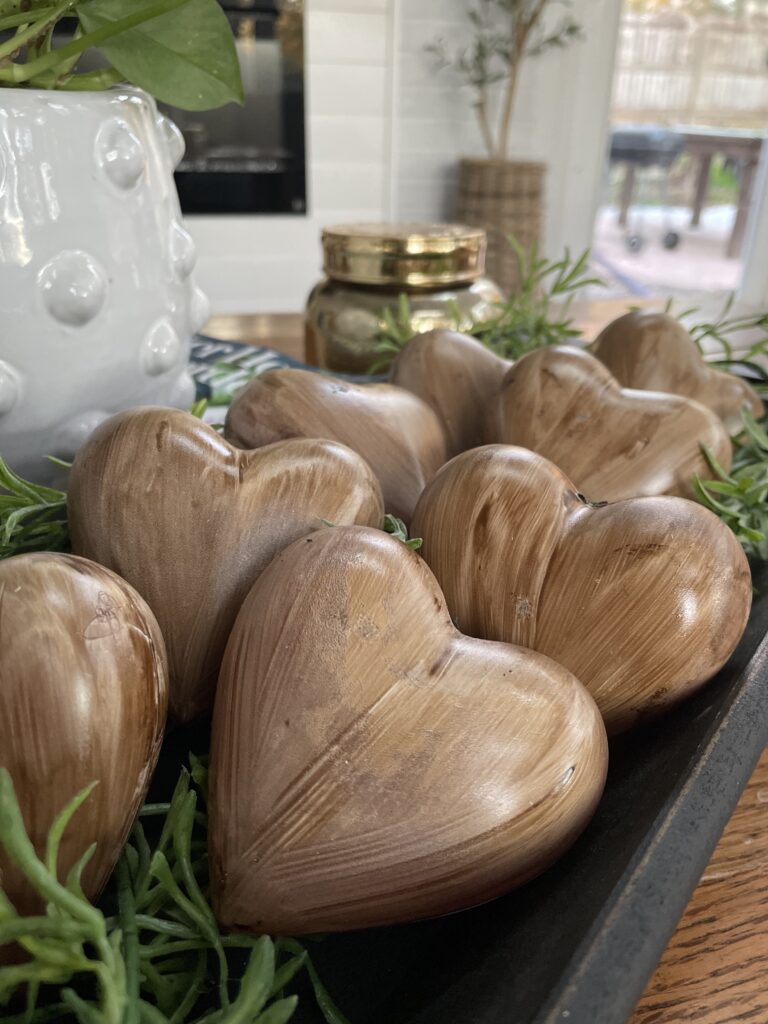 I put them in a tray on the coffee table in our sun room but they would be great on an entry table or dinner table. Since they are wood-looking they will go with any color or style.
Thanks for stopping by and let me know what you think.
Much LOVE, Luci