Adding some neutral fall touches to a modern front porch
It's the end of August and I am itching to decorate for fall. Starbucks has rolled out its fall seasonal flavors which means it is perfectly acceptable to bring out the pumpkins. The only problem is that it's over 100 degrees here in the south. No sweater weather in sight. So I am doing the next best thing. I am planning my design in the comfort of my couch with the AC cranked to 70 degrees and as soon as the weather dips or I feel like sweating it's all coming out. Here is my modern neutral fall front porch design idea.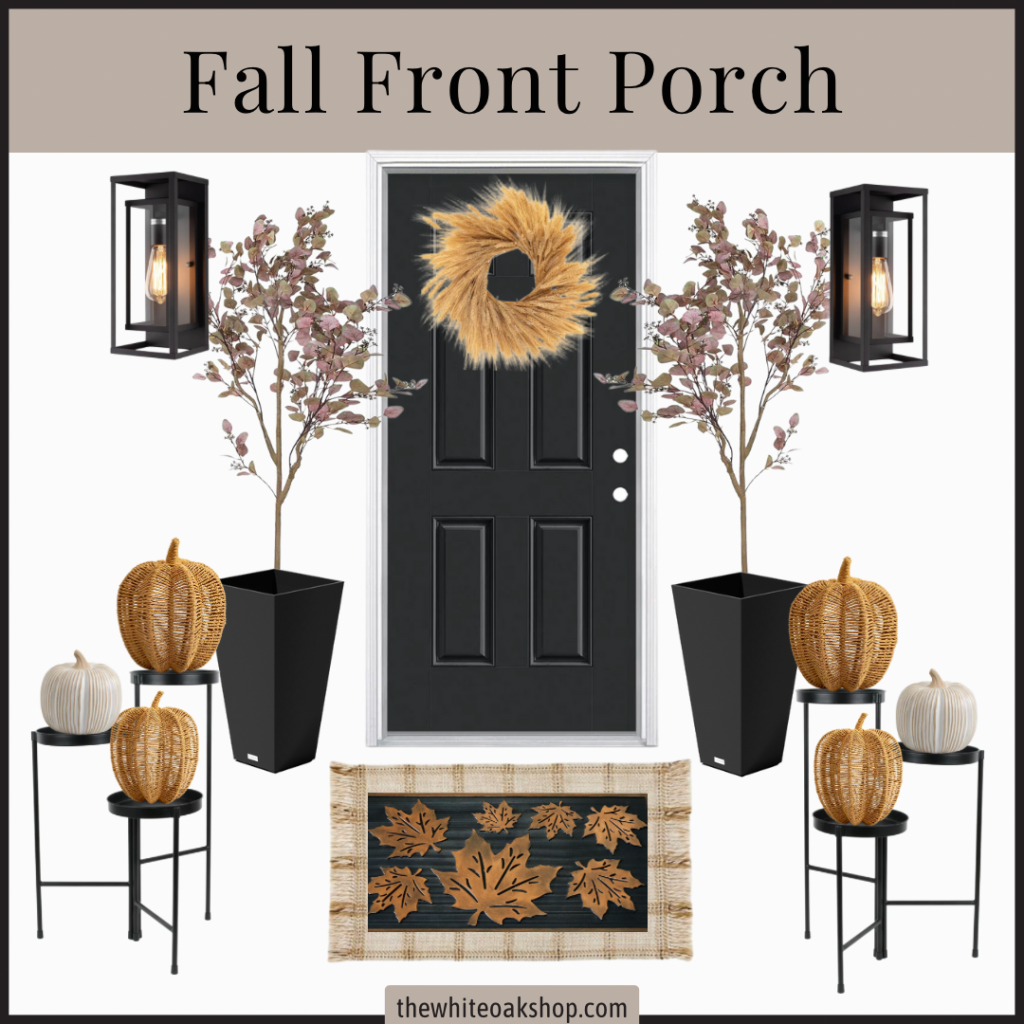 This post contains affiliate links, which means I receive a commission if you make a purchase using the links below.  All opinions are my own.
Before I talk about all the fall pieces. Let's start with the basics. The door, light fixtures, and planters.
Front Porch Basics
The door is painted a front door paint I found on clearance at Lowes. I had planned to buy a quart of SW Tricorn Black but the pint of front door paint was sitting on the counter for $10 so I snagged it instead. The light fixture for our porch was replaced with a more modern 9-light chandelier. Just a disclaimer it is an indoor chandelier. Our front porch is covered. We have had it for over a year and so far so good. It's a great price! The sconces are so sleek and cool. We don't have the space on our porch for side lights but if we did we would add these. Lastly are these tall planters. You can put just about any type of plant real or faux in these planters. They add so much impact to a front door.
Now that we have front porch basics covered let's dive into fall items. I like to keep fall neutral, that is just me. If you love the deep oranges and warm yellows by all means add some color. I keep it neutral so that when Halloween sneaks up I can all the spooky items and just keep it up until Thanksgiving.
Fall additions
I am really excited about these plant stands! Who doesn't need more places to add real or in my case faux pumpkins? Real pumpkins don't really last with the southern heat. Having them at different heights adds dimension without having to stack.
FAUX PUMPKINS AND STAND

Now for some interest. The fall eucalyptus trees are a great value for their size. They add such impact around the door and add warmth and texture.
A simple pampas wreath is all that is really needed for the door. Because the door is so dark something light in color is needed to bring in some contrast. If you have a light-colored door consider the opposite so that the wreath stands out.
Lastly is the welcome mat for your guests. Layering rugs is a great way to add interest and color. This plaid rug is a great accent to a more simple maple-leafing doormat. Some words are always fun too! Whether it is Hello Pumpkin or Hello Fall.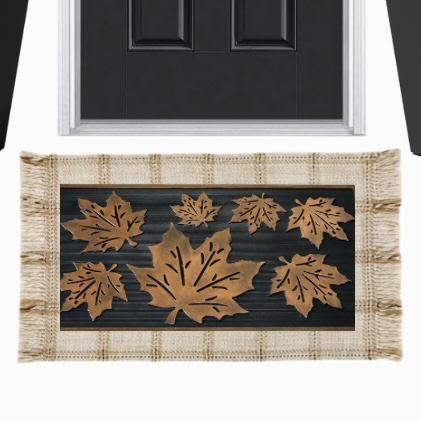 I hope the weather cooperates next week so I can go outside and enjoy decorating and cleaning my porch. The forecast is not looking good. Happy fall friends 🥵