This DIY Haunted House Halloween Village is so easy and affordable to create. Chic Halloween Decor made with a few supplies and a trip to the Dollar Store.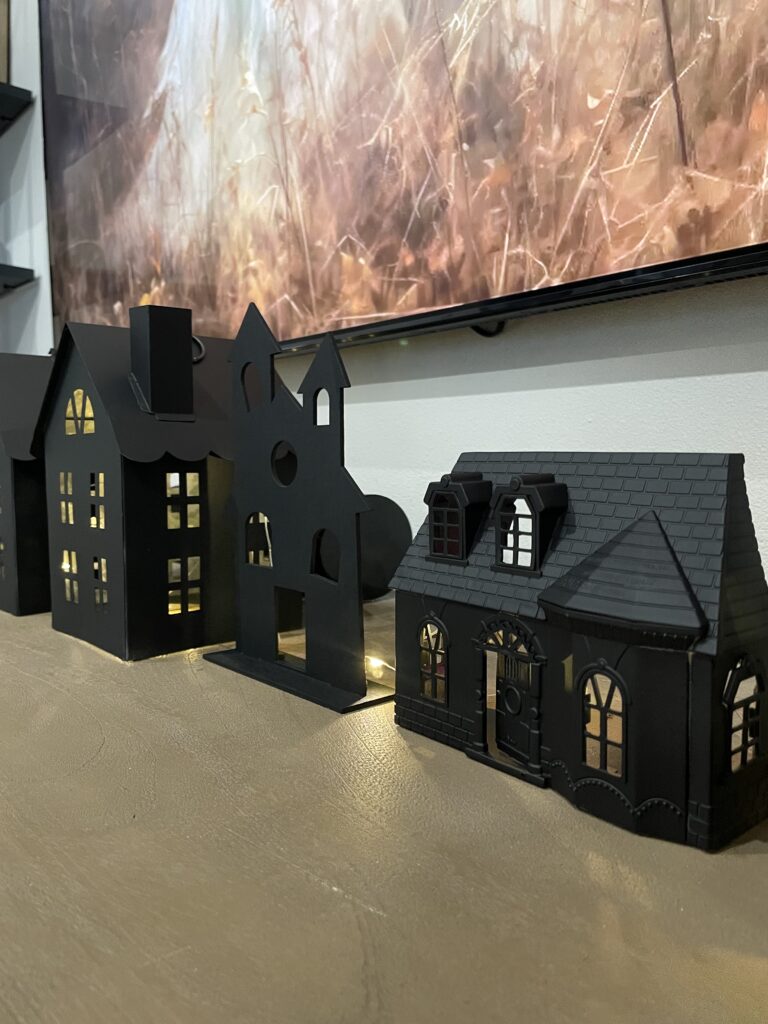 The area under the TV is my favorite, and sometimes least favorite, to decorate for the holidays and seasons. Once it starts to get dark earlier I crave some twinkle to look forward to. Last year I came up with some spooky black pool noodle candles for Halloween. I loved that DIY. Those candels however were placed in the sunroom. I needed to come up with another Halloween idea that would give me some twinkle. I found this advent calendar at Hobby Lobby for Christmas. Yes, I purchased Christmas decor in September but after you see it you will know why. That glow inspired the mini DIY haunted houses.
This post contains affiliate links, which means I receive a commission if you make a purchase using the links below.  All opinions are all my own.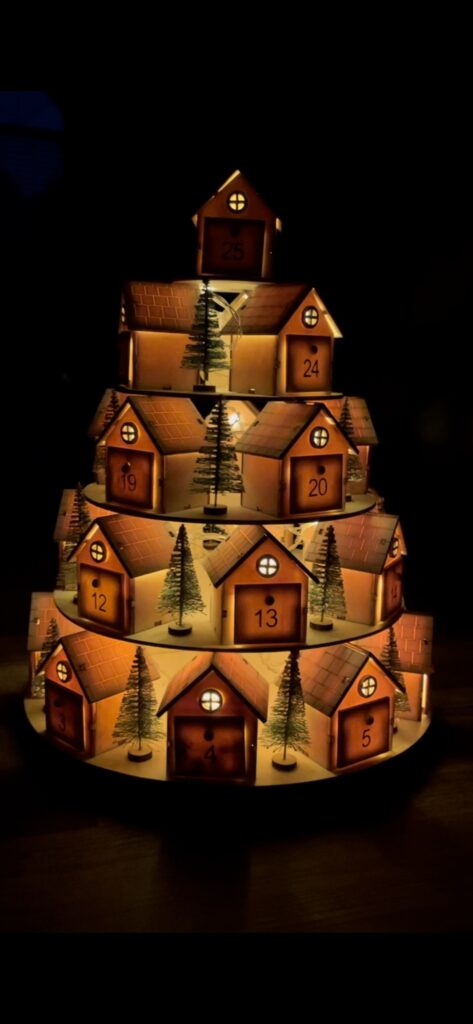 I wish I had a link for this advent calendar but it was only in stores at Hobby Lobby. I put batteries in it and that glow was unreal. The picture doesn't do it justice. Anyhoo back to Halloween. LOL. When I saw the glow from the little windows I knew I wanted to create a version like this for the spooky season.
I had a few galvanized houses I was about to get rid of because I hadn't used them in years. However, I still needed a few more because the area under the TV is quite long. Off I went to Dollar Tree, my favorite store for seasonal decor. This is what I found in the toy section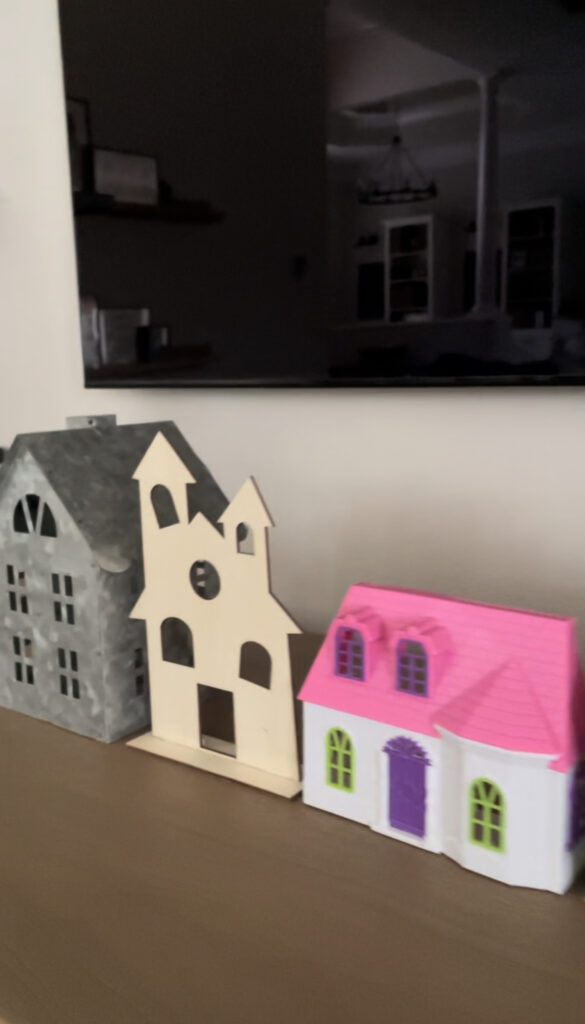 The wood cut-out houses were in the Halloween section. Now I had enough houses for a Halloween village for a relatively small amount of money.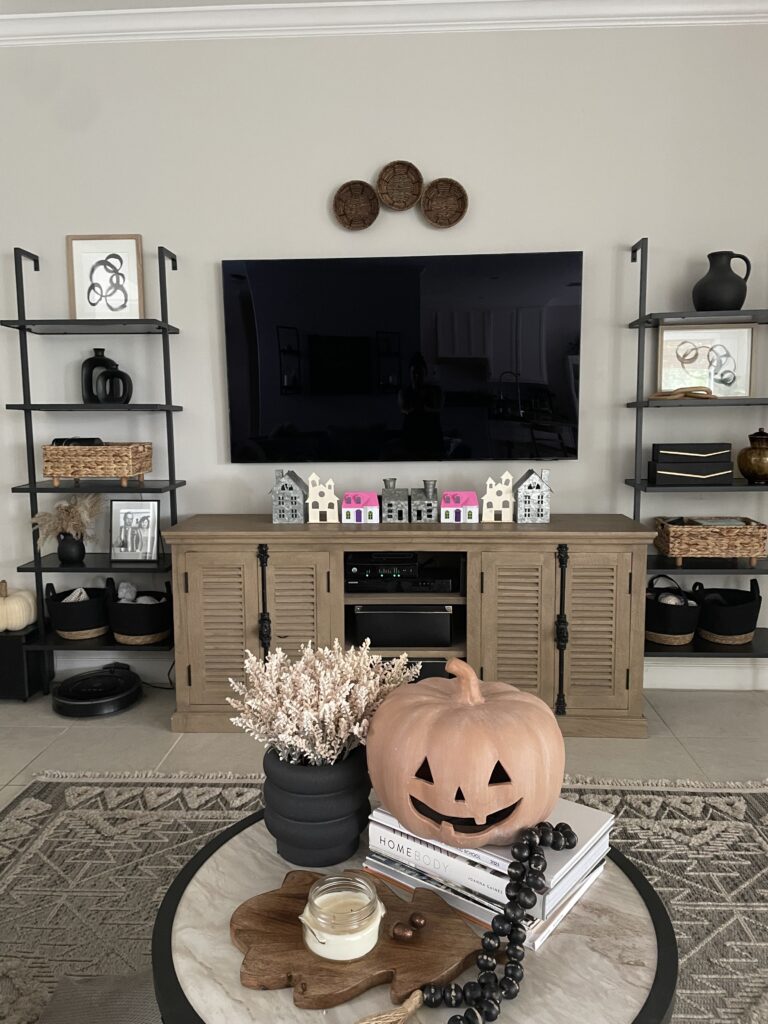 The look I wanted. Now the fun crafty part. I wanted them all black so I grabbed the can of flat spray paint that I usually have in the garage Rustoleum Flat Black.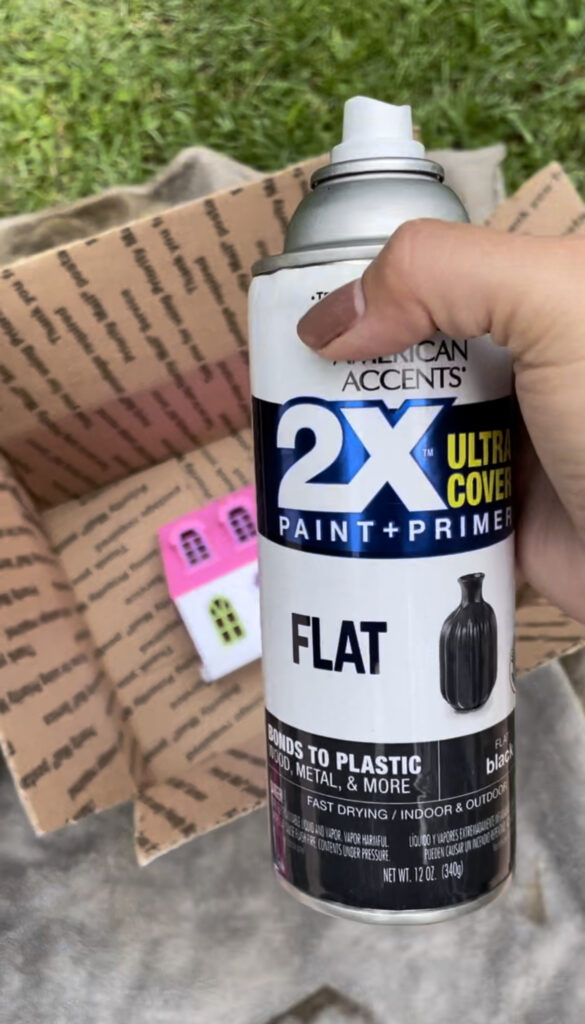 Save your boxes and use them when you spray paint. They will catch a lot of the overspray. A little paint goes a long way. Once the houses were dry I brought them inside and lined them up under the TV.
As I mentioned earlier I am a twinkle lover! I love all things that glow when it starts to get dark earlier. I got a few packs of these battery-operated fairy lights last year. They are fantastic. they have 8 different modes, a remote, and a timer. Starting at one end stuff some of the wire and lights inside each house. I started from left to right. You will have to tape some of the lights on the Dollar Tree houses so that they stay in place. Keep stuffing the lights in the houses until you reach the last house.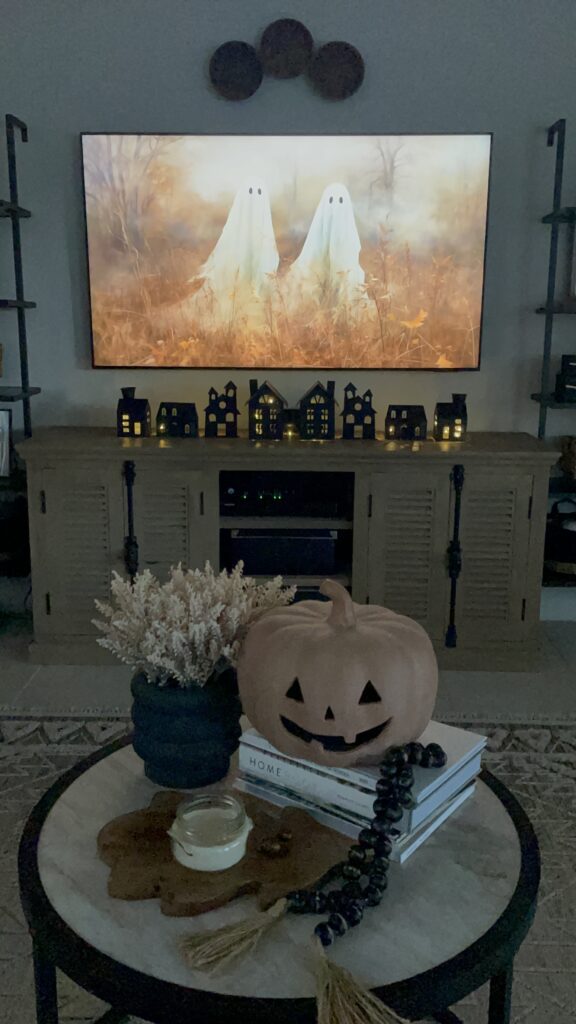 Tada!! The final result. A spooky cute DIY Halloween Village for only a few dollars. The best part is that you can customize the color to go with your decor. Pastels especially pink, are so big this year, thank you Barbie. Imagine them in shades of pink or pastels. So adorable right?
Thanks for stopping by and let me know if you make this Halloween craft. I would love to see it.
❤️Luci