Staging your Home for a Memorable Christmas
As the holiday season approaches, we all yearn to create cherished memories with our loved ones. The magic of Christmas decor plays a pivotal role in transforming our homes into festive wonderlands. But what can we expect in 2023? Anticipate a Christmas like no other as we jump into the hottest trends that will define this year's celebrations. Let's deck the halls and see the best Christmas decor ideas of 2023!
This post contains affiliate links, which means I receive a commission if you make a purchase using the links below. All opinions are my own.
Traditional Themes with a Twist
Classic Christmas colors
When it comes to traditional themes, classic Christmas colors remain a timeless choice. Red, green, and gold are the foundation of this theme, evoking feelings of nostalgia and warmth. These colors are not going anywhere in 2023; they're simply being reimagined to suit modern tastes.
Reimagining Festive Wreaths
The iconic Christmas wreath is getting a contemporary makeover. Expect unique shapes, modern materials, and personalized touches to adorn your front door. Wreaths are no longer limited to just evergreen; they're becoming artistic expressions of holiday spirit. Here are just a few of the most popular wreaths in 2023.
Ornaments and Finials
Ornaments and finials are the heart of Christmas decor. Have you heard of inflatable ornaments? They were really big last year and continue to make quite the statement. They are oversized and make great outdoor holiday decor. Flocked and velvet ornaments are selling out so fast. Mirrored and disco ball ornaments are sure to brighten up any tree. This year, the emphasis is on quality over quantity. Invest in heirloom pieces, personalized ornaments, and artisanal creations to adorn your tree. These timeless treasures will carry the spirit of Christmas through the generations.
Minimalist Elegance
Embracing a Minimalist Aesthetic
Minimalism is not about going bare; it's about selecting each decor piece with intention. Scandinavian-inspired decor principles are guiding us towards clean lines, natural elements, and a sense of serenity. In 2023, less is more when it comes to elegance.
Scandinavian-inspired Decor
Scandinavian design is all about simplicity, functionality, and a connection to nature. Think wooden ornaments, neutral color palettes, and cozy textiles. It's about creating a warm and welcoming atmosphere with a touch of Nordic charm.

Less is More – Simple yet Stylish Ideas
Simplicity can be striking. Discover how to use the power of restraint to achieve a visually stunning decor. Small touches, such as minimalist tree decorations and uncluttered mantels, can make a big impact.
Nature Inspired Decor
Nature-inspired decor is gaining momentum, and it's more than just a Christmas tree. Pinecones, twigs, and greenery are making their way indoors. Explore how you can bring the natural world inside and create a cozy woodland ambiance.
Rustic Christmas Accents
Think log cabin charm and rustic glam. Adorn your space with wooden accents, faux fur, and wildlife-themed decor. This trend celebrates the beauty of the great outdoors and brings it to your home.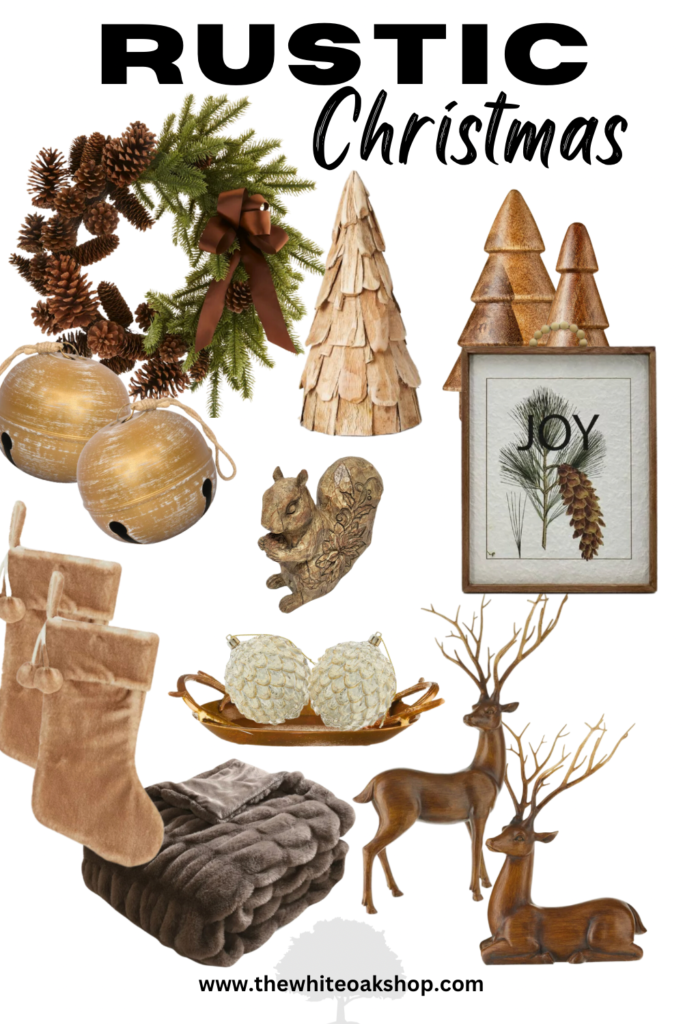 Holiday Time Natural Pinecones Wreath | Medium Rustic Christmas Tree | Brown Mango Wood Tree 8in. | Brown Mango Wood Tree 4.5in | Joy Wood Frame | Brown Wood-Look Squirrel | Metal Jumbo Jingle Bell in Gold Finish with White Wash | Brown Faux Fur Stocking | Gold Mercury Pinecone Shape Ornaments | Copper Antique Aluminum Tray with Deer Horns Handles | Brown Standing Deer | Brown Resin Sitting Deer | Faux Fur Reverse to Mink Throw Blanket
DIY Natural Decor Projects
Engage in some DIY projects that embrace nature. From crafting pinecone ornaments to creating feather trees, eco-friendly creativity goes a long way.
Bold and Vibrant Christmas
Vibrant Color Schemes
For those who love a lively Christmas, bold and vibrant color schemes are making waves. Think beyond red and green, and embrace hues like deep blues, purples, and especially pink. It's time to let your decor shine with vivaciousness. We have dedicated a section in our Amazon Storefront especially devoted to PINK!
Eclectic and Playful Decor
Dare to be different with eclectic and playful decor choices. Mix and match various styles, patterns, and textures to create a visually exciting environment that reflects your unique personality. We especially love what Alieta is doing to these fun and oversized nutcrackers. She is painting them a bright fun pink to match her preppy Christmas theme.
Metallic and Boujee Touches
Shimmering Gold and Silver Accents
Metallics are back in a big way. Gold and silver accents add brilliance and glamour to your holiday decor. Below are just a few new metallic pieces that are new for 2023.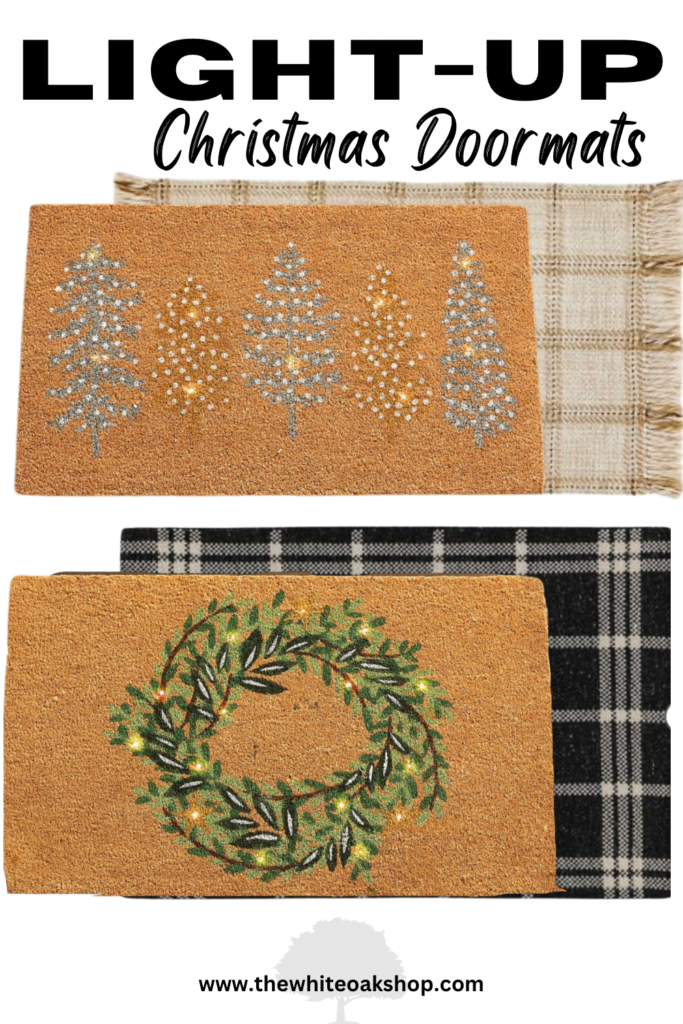 Metallic Trees Light Up Doormat | Plaid Accent Rug | Wreath Light Up Doormat | Black Woven Tapestry Rug
Glitzy Christmas Trees & Toppers
Make your Christmas tree the star of the show with glitzy and luxurious decorations. From sparkling ornaments to cascading ribbons, we'll help you achieve a tree that eludes extravagance with these pieces.
Budget-Friendly Decor Ideas
Christmas Decorating on a budget
Embark on a budget-friendly decorating journey to The Dollar Tree, Target Dollar Spot, and Walmart. These stores have really stepped up their game and have great looking affordable seasonal decor. Below are some great Christmas Decor finds for under $25!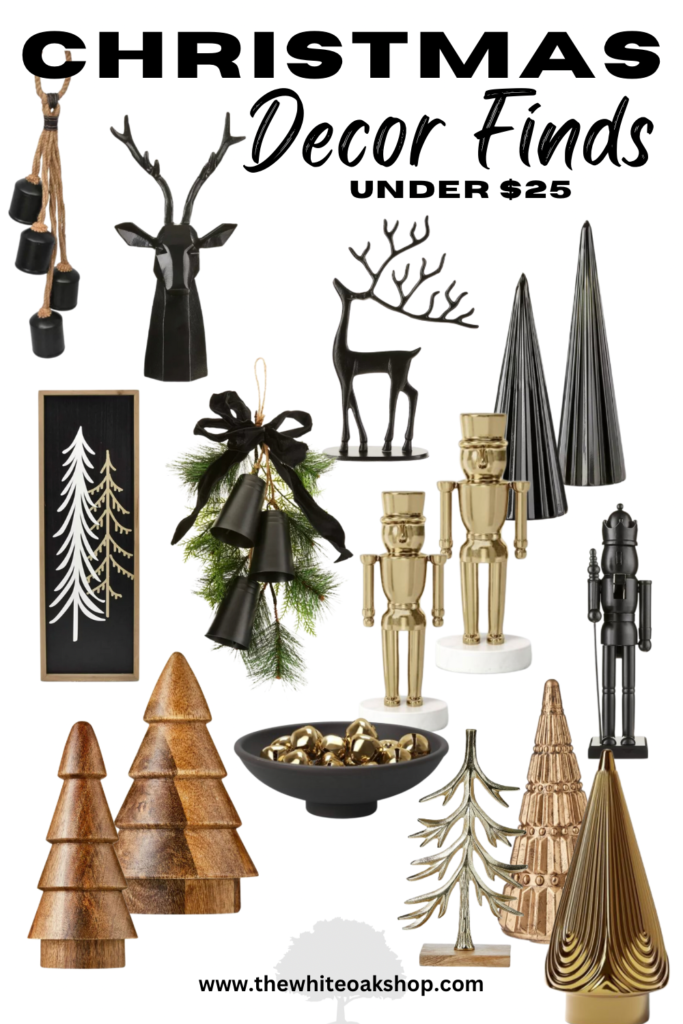 Affordable DIY Projects
Get your craft on with some easy DIY projects that will keep your expenses in check. As we mentioned earlier in the post metallics are big this year. A can of metallic spray paint will go a long way to transform Christmas decor you already have on hand. Here are just a few affordable DIYs that will help save some money while making your home look warm and cozy for the holidays.
DIY 1 – This is a collection of Christmas DIYs that my friend Linda provides. The ebook would be a great resource or would make a great gift for your crafty friend.
DIY 2 – Tree Collars can get really expensive. This DIY will show you how to make one to fit your tree.
DIY 3 – This is another DIY from Linda. I shared a version of this wreath above. Linda made a fabulous look-a-like for a lot less.
Closing Out the Year
As we prepare for the holiday season, let's tap into our creative spirit and make this Christmas truly merry and bright. Let your Christmas decor reflect your personal style and taste. The most important element of your holiday decorating is the joy it brings to you and your loved ones.
Wishing you a joyous holiday season filled with love, laughter, and beautiful memories.
❤️ Luci