If you are looking for a change and want a break from the traditional red and green Christmas give black and white a try. You can't go wrong with a black-and-white color scheme. It's true with fashion and decor. It's classic and it won't go out of style. This combo goes well with any style. Rustic to modern and everything in between. So let's add some black and white Christmas decor pieces and mix it up.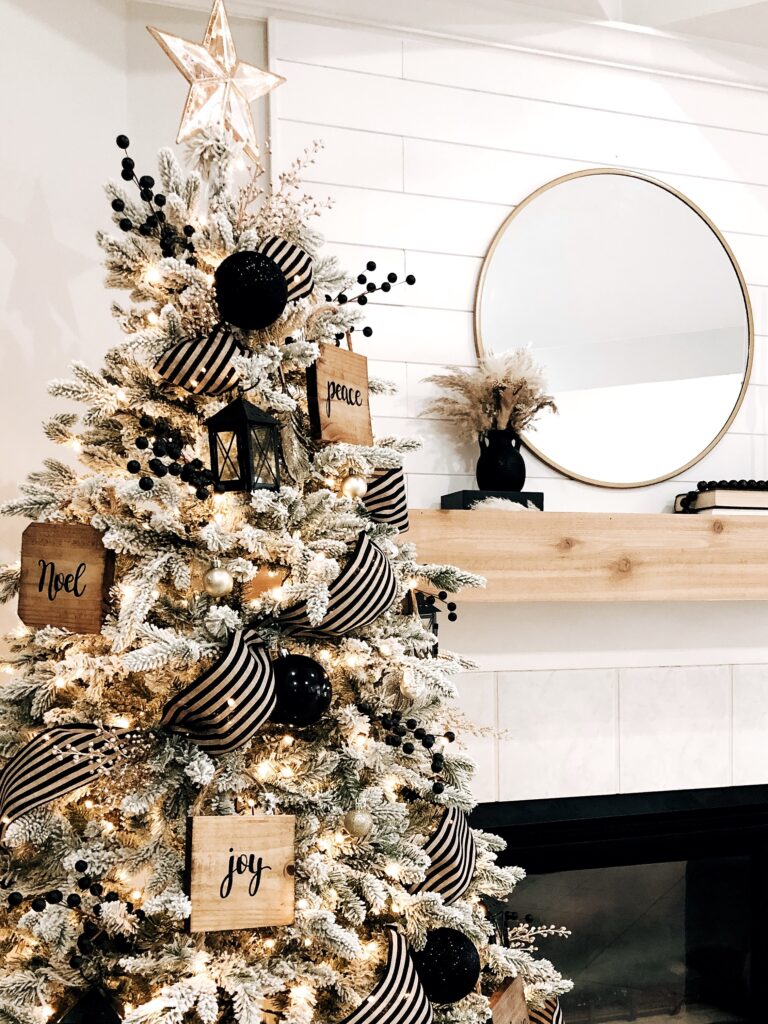 This post contains affiliate links, which means I receive a commission if you make a purchase using the links below. All opinions are all my own.
Flocked trees
The easiest way to add white is to start with a flocked tree. I have partnered with King of Christmas for a few years and their trees are so realistic and go up very easily. I will share some of my favorite flocked trees below. The tree pictured above is a 7.5 pre-lit queen flocked. Flocked trees have always been a favorite of mine. It could be because I never lived near snow but they were always so dreamy. Ornaments really pop against the white snowy branches. The twinkle lights also reflect more light on a white tree than on a green tree.
Ribbon
Ribbon is a great way to add patterns and interest. If you have a green tree this is where you can add more white. Pick a ribbon with more white in it. Don't be afraid to mix patterns and designs. Black and white plaids and striped ribbons are very popular and can be used year-round for presents. The best part about ribbon is that it makes a great filler. It fills the tree up with interest that you won't need too many ornaments to fill the tree.
Black and White Decor accents
These are some of my favorite new black and white Christmas decor pieces. These would look great on a mantle, table centerpiece, or entryway table.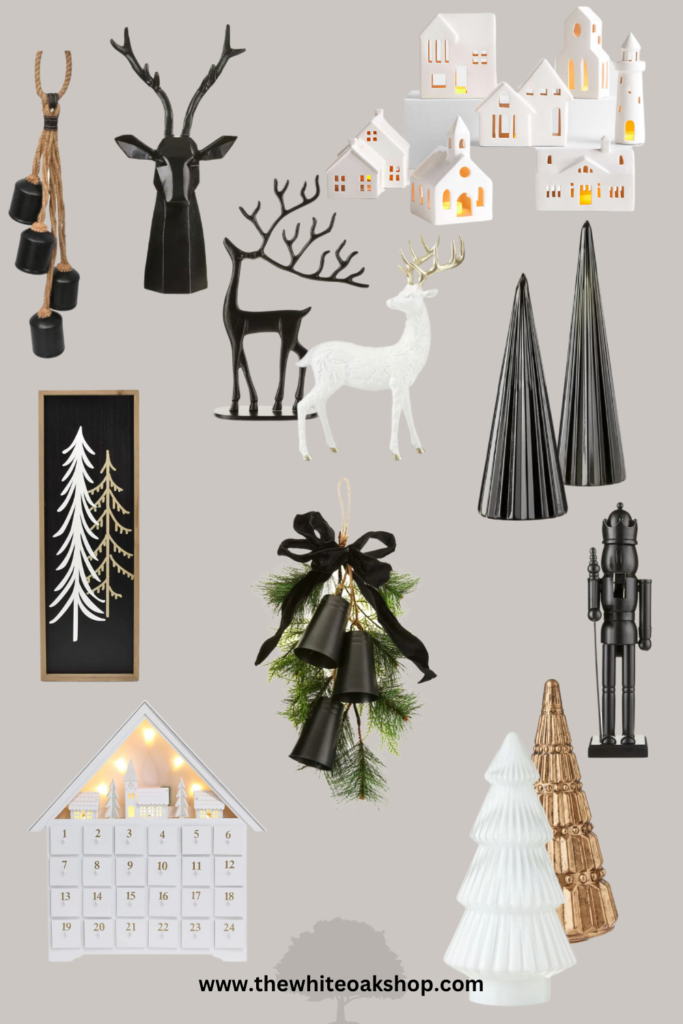 Pillows
Christmas is THE cozy season. The best way to add cozy is with pillows. Just another way you can incorporate black and white into your home.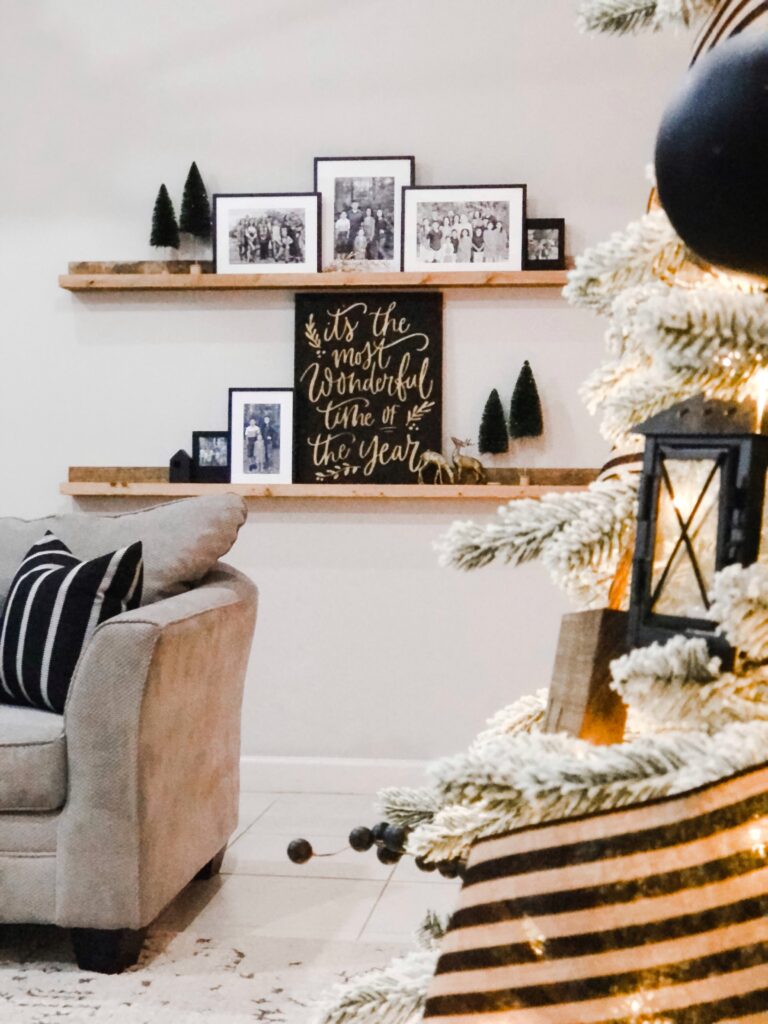 more Black and white pillow cover options
ornaments, stems, and sprigs
Lastly are the tree decorations. There are so many options to choose from. Think outside the box and use what you have on hand. An easy way to transform old ornaments is with yarn or velvet ribbon. Paint is another way to change ornaments fairly easily. I discovered stems and sprigs a few years ago and boy has that made a difference. Using berries and stems that poke out of the tree adds so much texture and depth.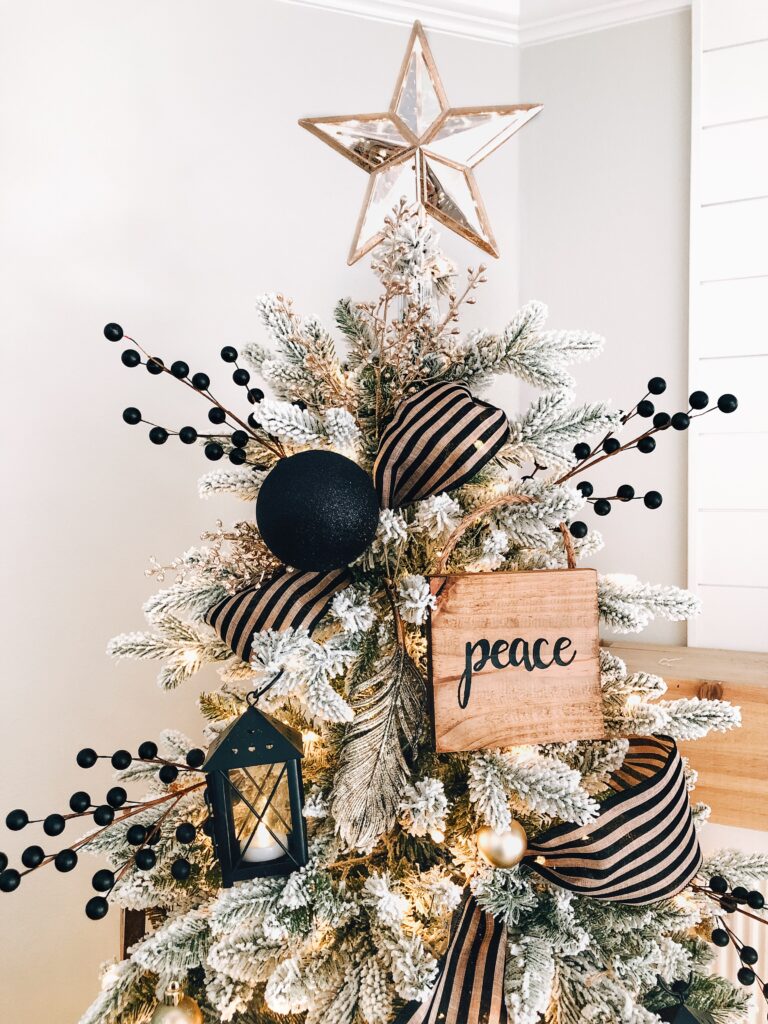 The black berry stems add so much interest to this tree. Cotton stems would be another great option for a more rustic look. Another money-saving idea I saw last year was blowing up larger black balloons and adding them to the inside of the tree.
Black and white Christmas accents are timeless and will make great investment pieces for your Christmas decor.