This DIY Gold Nutcracker project was inspired by the desire for some fancy elegance on a budget. That feeling that comes from transforming an ordinary and fairly inexpensive nutcracker into a golden masterpiece is like no other. Let's dive into the inspiration behind this project and the pursuit of a more affordable alternative.
Inspiration: Teaser of Elegance
Picture any regular Nutcracker. Now imagine it bathed in a luxurious gold finish. The result? Pure elegance and magic that adds that extra oomph to your holiday display. Get ready to be captivated by the sheer glamour a touch of gold can bring.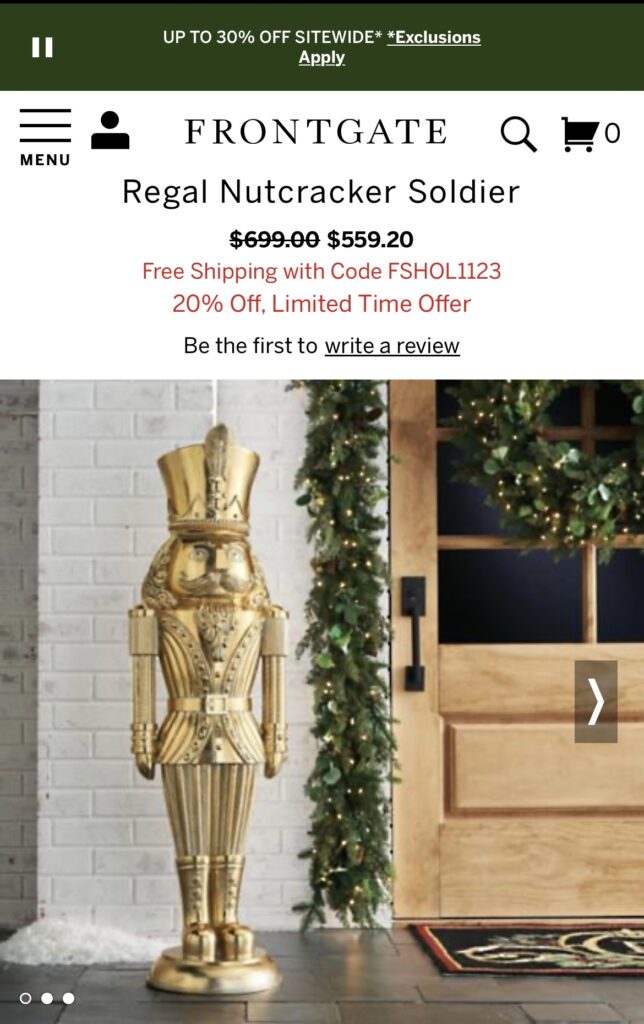 See what a mean? This gold nutcracker is already sold it. It is mid November.
Pursuit of affordable nutcracker options
My hunt began by scouring the internet and stores. Let me tell you there are a lot of oversized nutcrackers out there. Walmart had a great deal on 6-foot nutcrackers this year. Mid-sized options are harder to find at a great price. I found the most affordable alternatives at Michaels. These nutcrackers can always be a bit taller in my opinion. Dollar Tree was in the same shopping center so I made a quick stop there to find some bases to make the nutrackers taller. I came up with a plastic trash can and a sturdy gift box. There is a good possibility that these nutcrackers will sell out. Don't forget to look at antique and thrift stores. The thrill is in the hunt, right?
Nutcracker finds
Getting Started: Prep Work
Let's prepare the stage for our DIY gold nutcracker project. Begin by saving boxes. If you are like our family you get packages delivered a few times a week. I am sure Amazon loves me. LOL. Save a few boxes to help catch the over-spray. The bigger the box the better. A smooth DIY experience begins with a well-prepared foundation.
Choosing the Right Gold Paint
Before we start we must search for some gold. The right gold paint for this DIY. I have transformed a few items with gold over the years. Usually, if the item is small my go-to option is rub-n-buff. However, this project requires a lot more paint. Spray paint to the rescue! I have found a great spray paint that gives off the most beautiful metallic sheen. Rust-O-Leum Bright Coat Metallic finish gold spray paint.
Pro Tips: Achieving Professional Results
Achieving a professional-looking gold finish is within your grasp, and I will tackle common issues head-on, ensuring your nutcracker shines flawlessly.
First, dust off and make sure your nutcracker and bases are ready for paint. This is when those boxes come in handy. Place your item in the box and don't forget to shake that gold can.
The key to an even nondrip coat is to not get too close and to remember that less is more. A few light coats will not only dry faster but also ensure even coverage.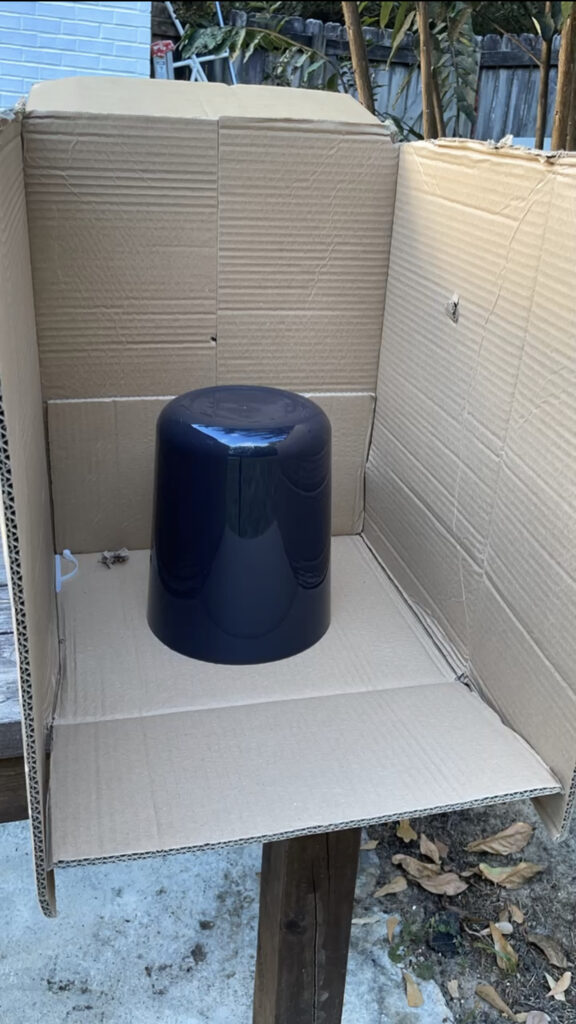 This is the trash can from Dollar Tree that I will also be spray painting to give our nutcrackers some height.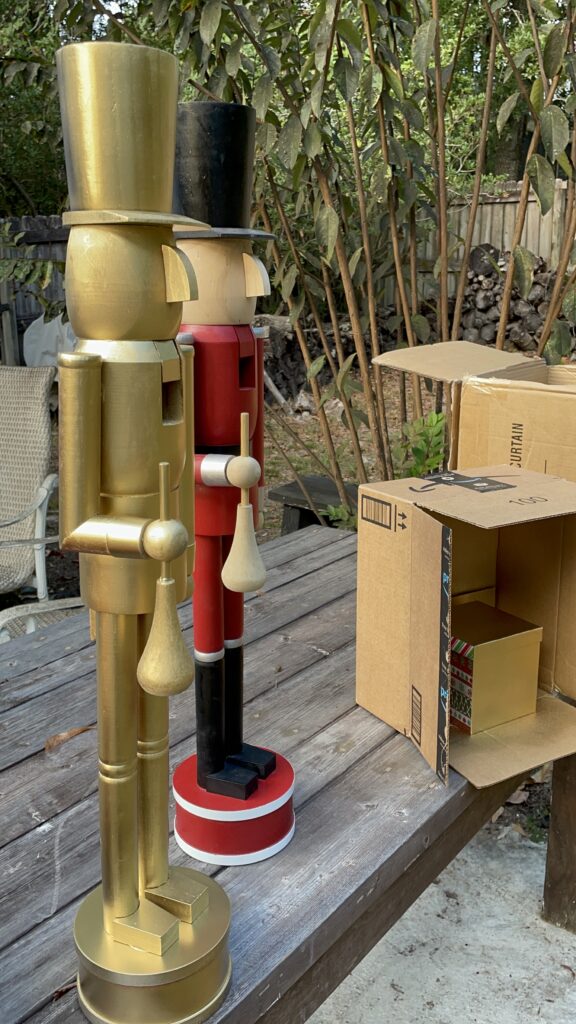 Overall these nutcrackers were pretty easy to spray paint. They didn't come with fur or decorative items so the process went pretty smoothly. As you can see the other base is in the box also getting some gold.
the Result – Showcasing Your Masterpiece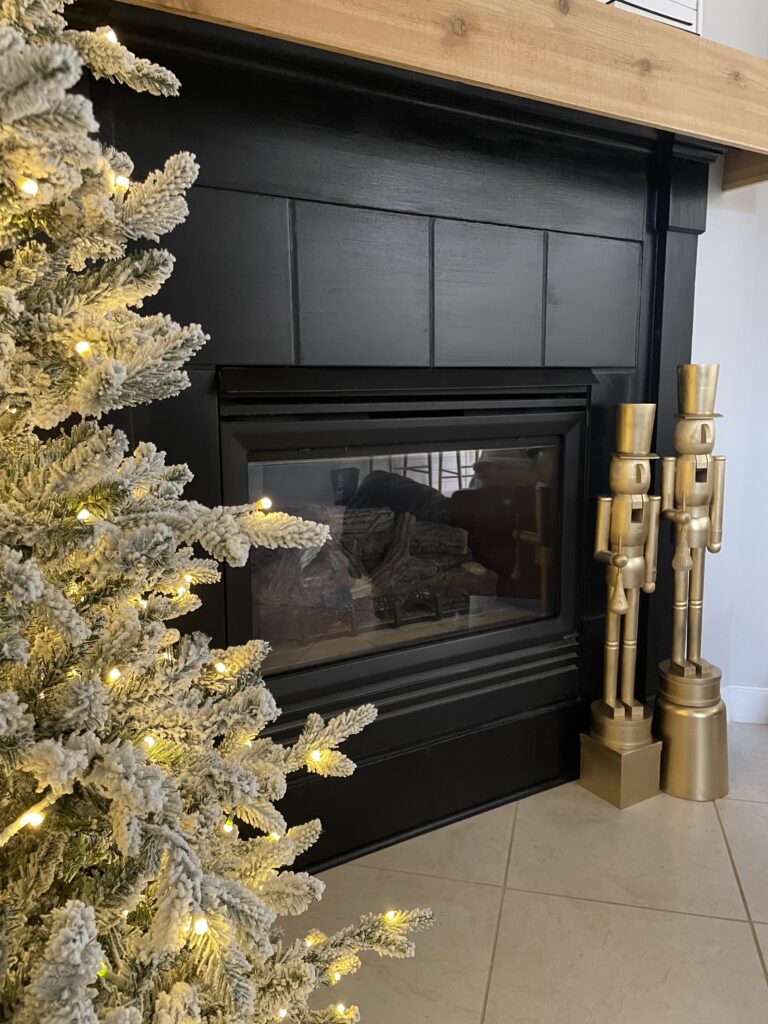 These nutcrackers are showstoppers and these pictures don't do them justice. I shared a video on a reel on Instagram. You can see them shine a bit better there. These nutcrackers stand tall at 41in and 38in tall. They would look fantastic on a mantel, flaking a front door and outdoor decor, or on either side of your TV.
Accessorizing Your DIY Gold Nutcracker
Bring on the bling! Explore a world of embellishments and accessories to take your nutcracker to the next level. From glitter to gems, discover how to add that extra flair that'll make your creation pop. Adding a gold feather to the hats. Ribbon for a belt or some fringe to make them a little extra. My friend Jaime embellished her oversized nutcrackers and they came out fantastic.
Let's not forget the bases. I don't know if I will get around to these fun projects but I thought it would be fun to add some embellishments to make one base of the nutracker look like a drum and the other a present. Stay tuned!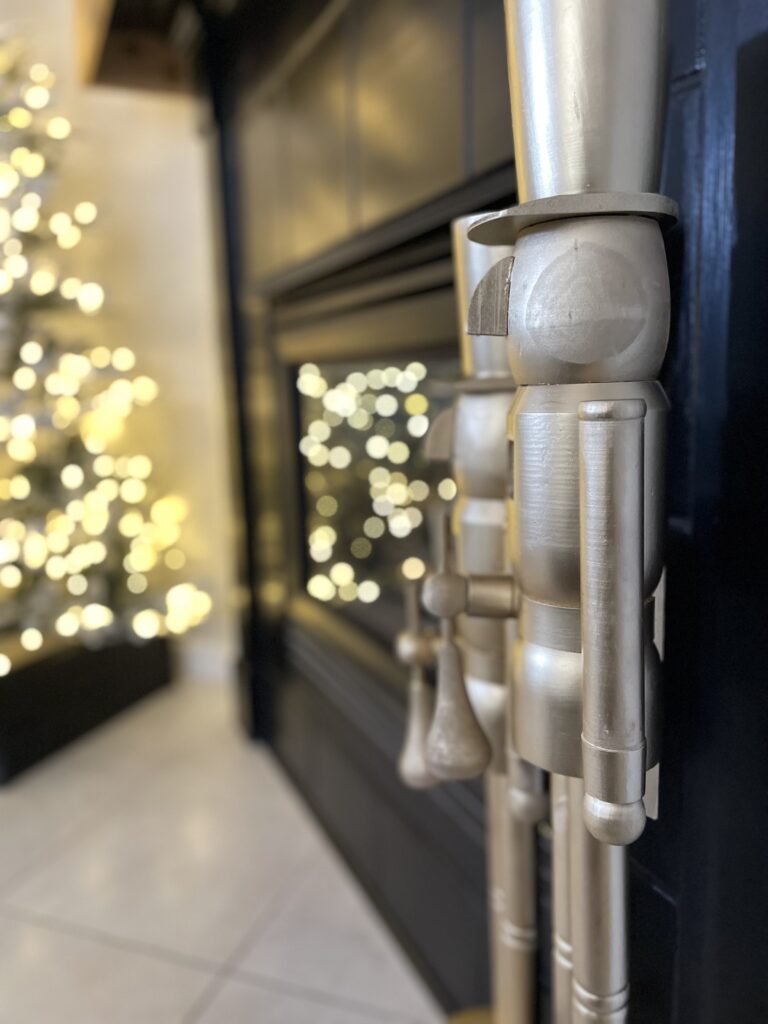 Final Thoughts: Golden Achievement
Take a moment to revel in the satisfaction of saving so much money. Overall each nutcracker cost me about $50 dollars each. Big difference from the $500 price tag on the gold Nutcracker inspiration. If you love to create the look for less you are in the right place. I have more ideas for this season and I hope time slows down so I can get to them all before the season comes to an end.
Additional Resources and Recommendations
Want more Nutcracker DIY inspiration? Sharing more suggestions below. I will be adding more as find them.
Linda upcycled a DIY life-size nutcracker from an old closet door.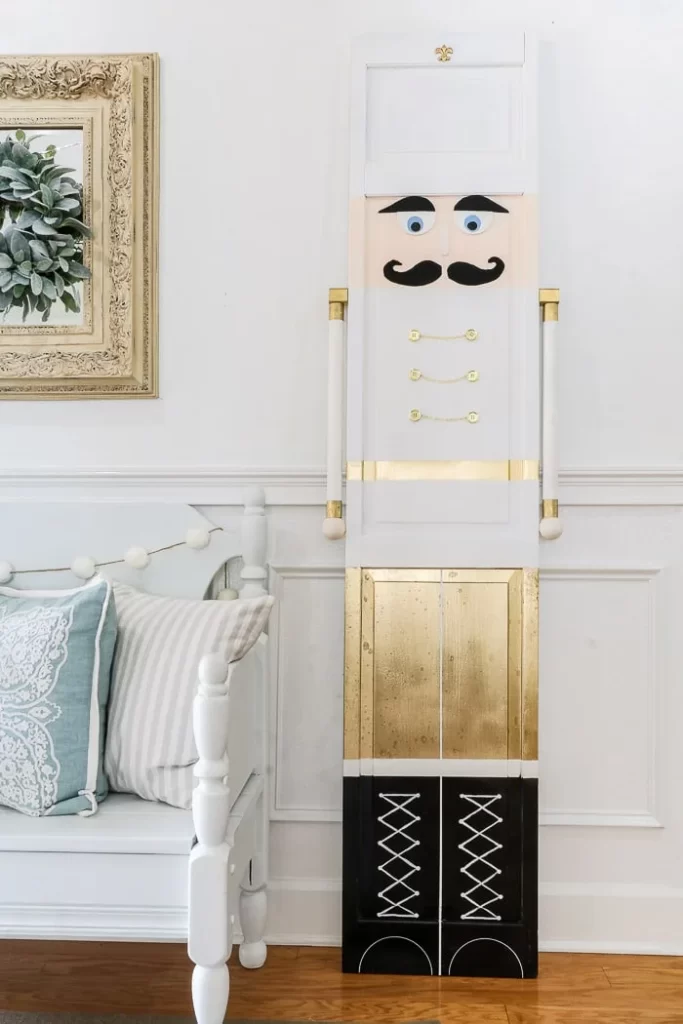 Alieta Transformed oversized nutcrackers to match her preppy Christmas Theme.
Happy crafting, friends!