Renovating or updating a bathroom can be overwhelming and costly. Here are 7 master bathroom design ideas for updating your master bathroom on a budget.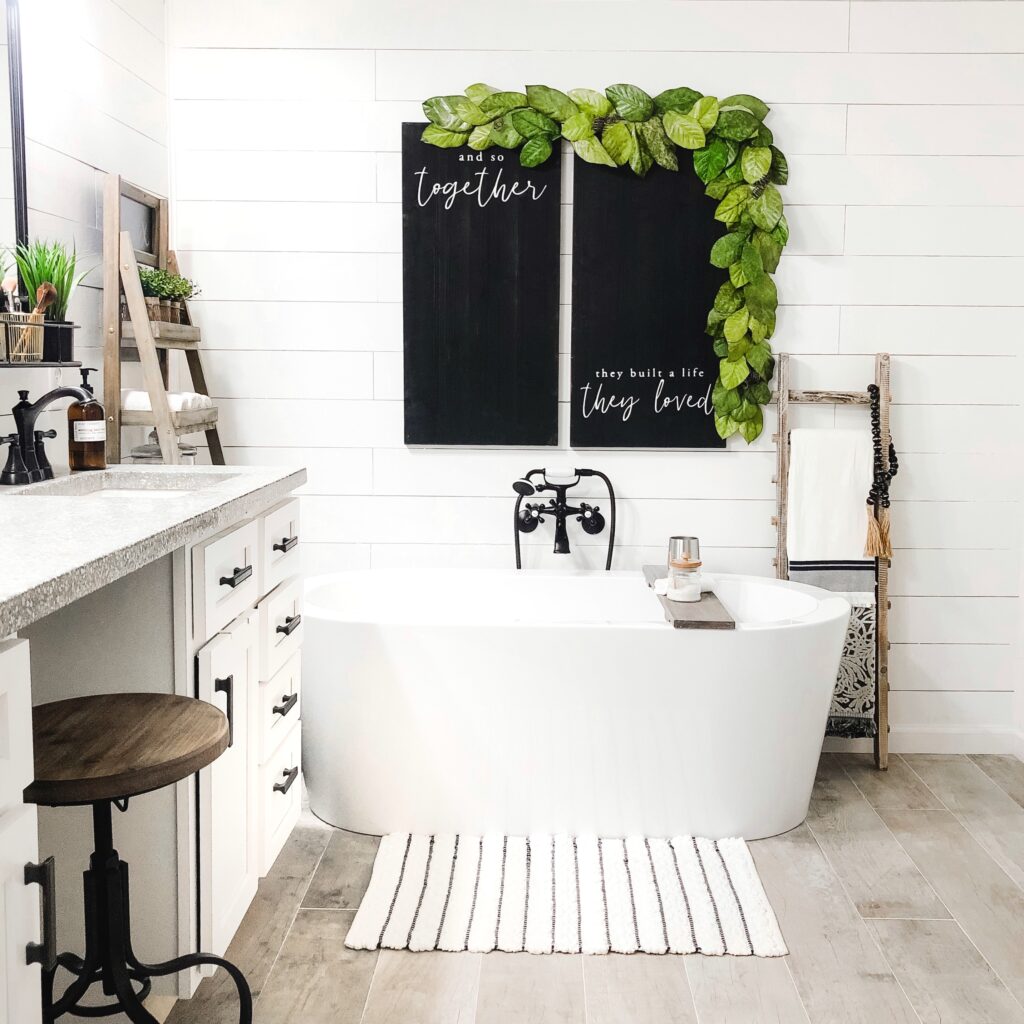 This post contains affiliate links, which means I receive a commission if you make a purchase using the links below. All opinions are all my own.
master bathroom design ideas
DEVELOP A PLAN FOR YOUR BATHROOM
When we don't love a space, we visualize how it could be different. "How could it be better?" We pin ideas and inspiration on Pinterest, then reality sets in with budget and constraints. Writing a list of the pros and cons of the space is a great place to start – this also helps with budget estimates. Where can you save money? What can you reuse? Could something be painted? What definitely needs to go? Then you can start prioritizing your needs.
Our bathroom scenario is not the norm. My husband has contracting experience, so he was able to do most of the work himself (with the help of his supervising wife of course!) Otherwise, this is when contracting quotes come in – ask friends and family for contractor/handyman recommendations.
With our bathroom, the countertops, tub, and shower surround were all nineties mauve, we knew we'd have to renovate the entire space. We saved for a few years and drew out the plans on graph paper (there's probably an app for that but I went with what I know) My old school ways.
In our case, most of the budget went to tiling, the tub, and the vanities. If you don't have it in the budget to replace big items, paint can be a great solution. Stenciled floors, painting vanities, and resurfacing a tub are other more affordable options.
Make you bathroom functional
After you have used a bathroom for a while, you know what works and what doesn't – it becomes clear what is important for a space. Our master bath did NOT have a toilet closet, makeup vanity, full-length mirror, or a functional linen closet – these were all things we hated about our bathroom and knew we wanted to change. We managed to add a sliding mirrored barn door to close off the toilet and shower creating a toilet closet. While it seems like a small adjustment, it was one of the most functional changes we made in this space.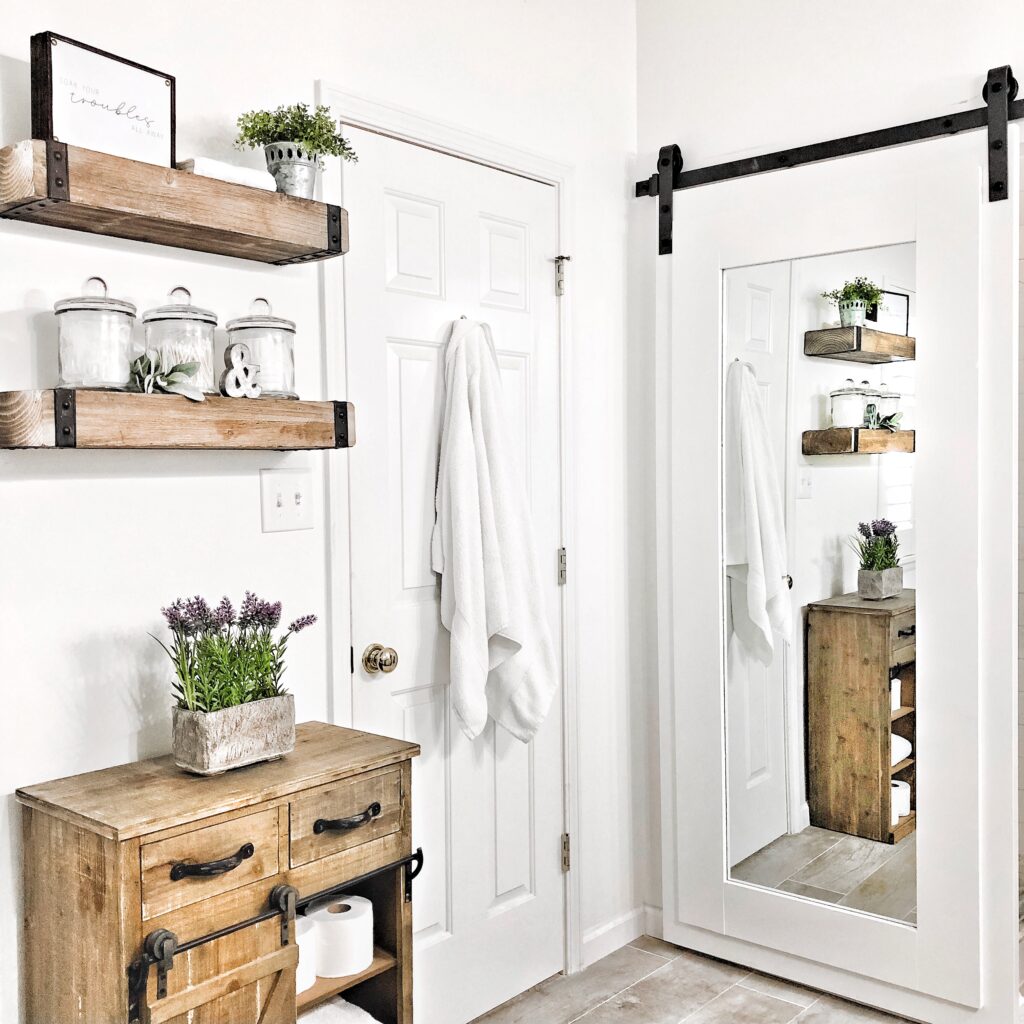 Clear some space
Our corner jetted tub, also mauve took up so much space and was never used, so it only made sense to replace it with a smaller soaker tub. Removing an unused, outdated bathtub can make space for a makeup vanity, linen closet, toilet closet, or a more spacious shower – something you will use.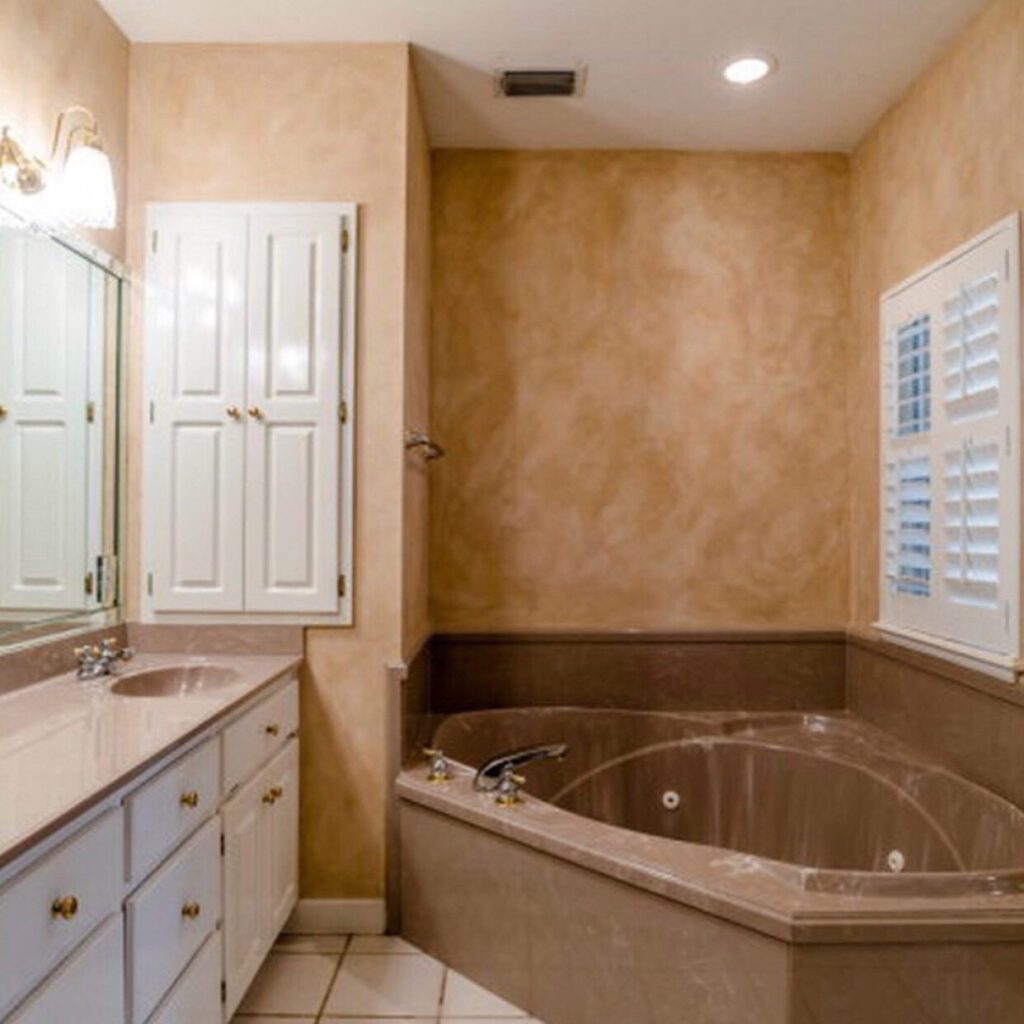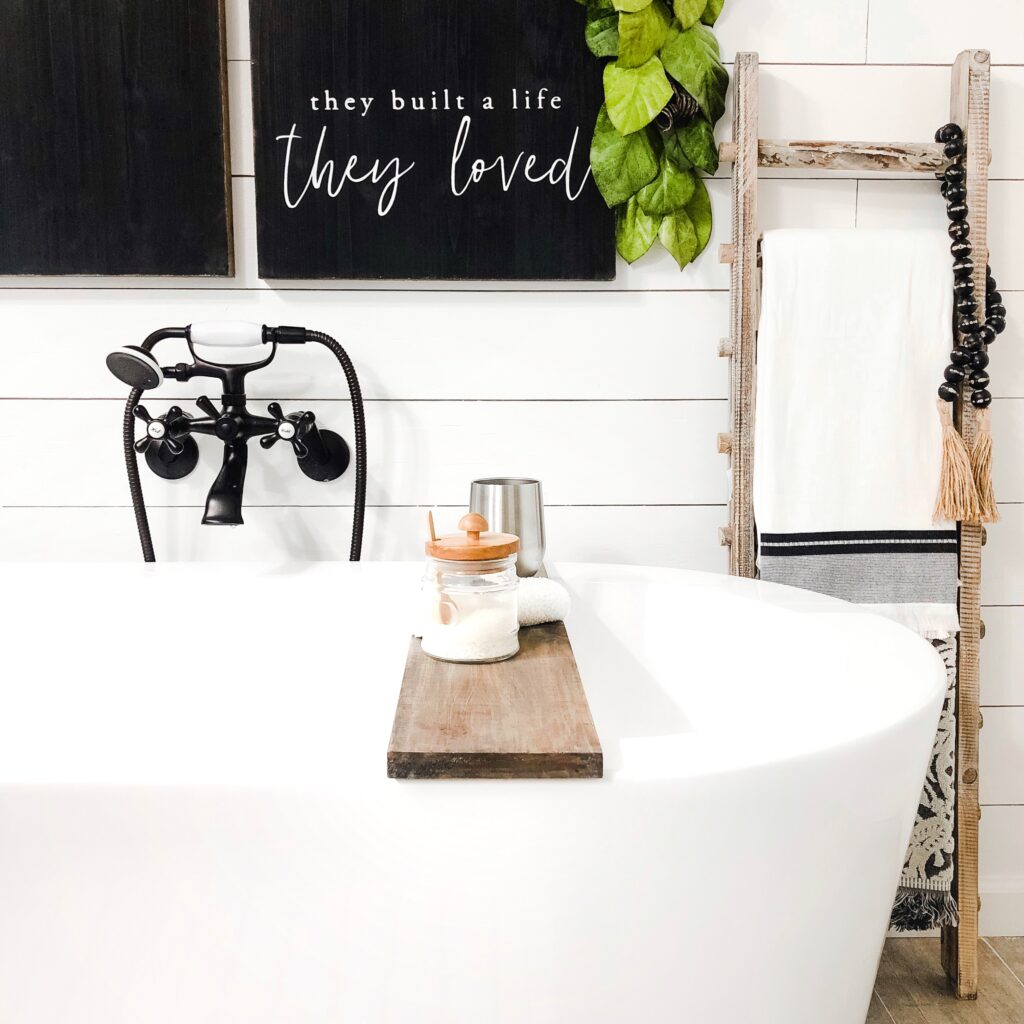 Think about storage
How much storage will you need? Will the vanities be enough? Is the linen closet big enough? Can I add a hanging cabinet or shelves for extra supplies? Do I need extra counter space or drawers for makeup? I asked myself these questions because I am all about hidden or decorative storage. Thinking about what storage you need will also aid in picking our vanities and cabinetry. Mirrors with built-in shelves also add additional storage. Styling glass containers, decanters, and baskets are great for storage and they are aesthetically pleasing!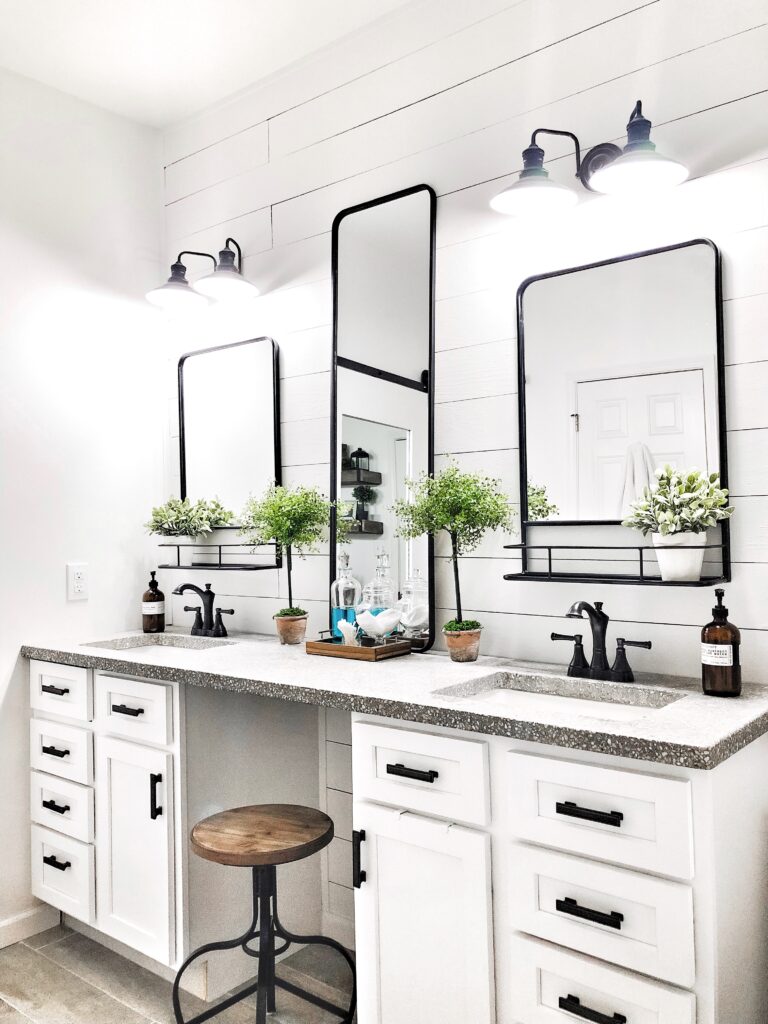 Lighting is everything in a bathroom
"There's too much light in the bathroom!" said no woman ever! If you have it in the budget to add more lighting, especially in an area where you get ready, then DO IT. A bold chandelier, wall sconces, or vanity lights (like the ones above) are fun ways to emphasize your design style and add character to your space. Mirrors can also bring in a lot of light. try adding a full-length mirror or bigger vanity mirrors, as they will reflect more light into the space. A mirror over a tub that looks like a window would also be a good idea for those without any natural light.
Make your master bathroom a sweet retreat
Master bathrooms are a luxury in my book. I didn't grow up in a house that had an en suite bathroom, the whole family shared one full bath ( I don't know how we survived!) Today, most homes come with an en suite, so why not make the bathroom you are renovating as luxurious as possible? A makeup vanity, a spa-like shower head, a soaker tub, side tables for candles and decor. Add a unique towel rack, warming rack, wood ladder, incorporate plants live or faux – these details will make an ordinary bathroom feel like a luxurious retreat.
Find you inner designer and make it yours!
Don't forget to make it personal by adding your own unique touches. We did this by adding a favorite quote on the wall above the tub and styling it with a magnolia garland. There are so many fun ways to make it your own – a painted or wallpapered accent wall, a favorite piece of artwork, a fun spread of bath accessories. You could also add shelving to style trinkets and decor items.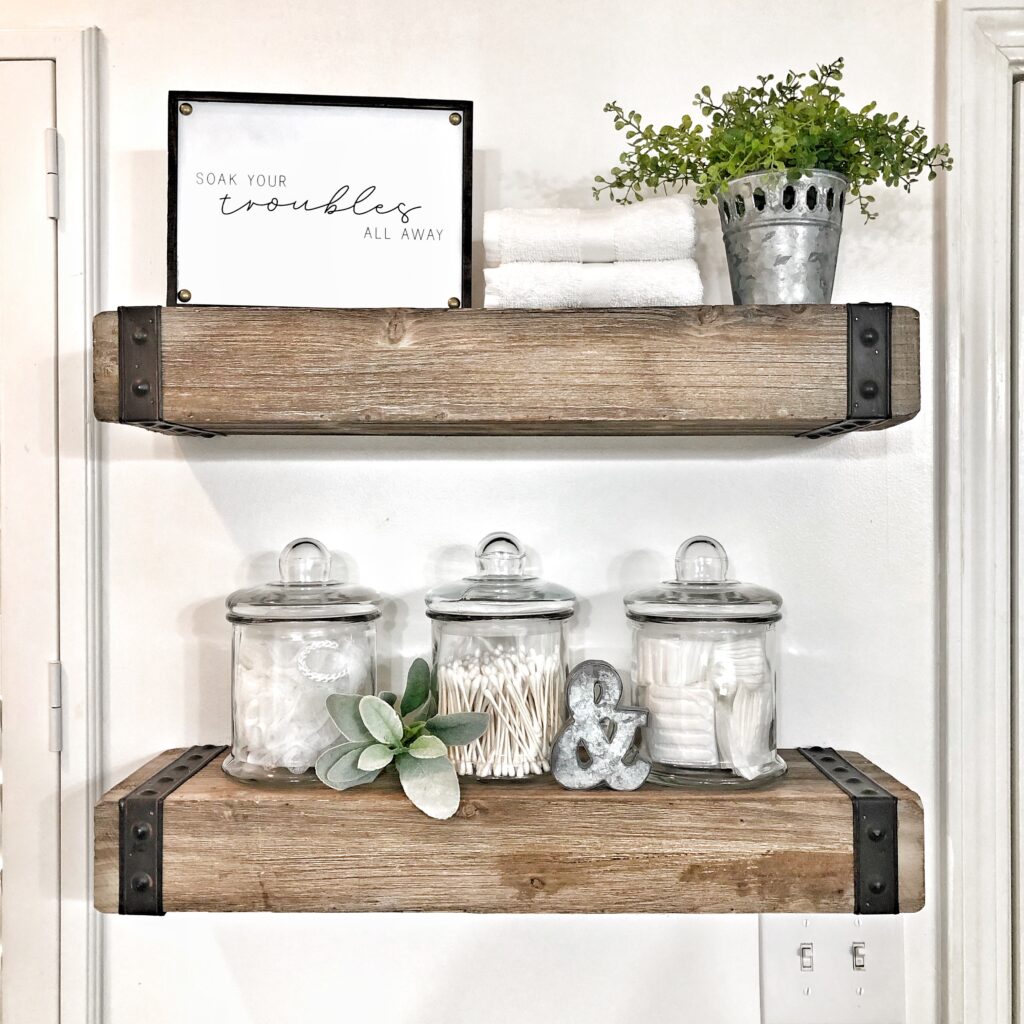 I hope these 7 master bathroom design ideas will help bring your master bathroom to life. Please share your favorite bathroom styling ideas in the comments below.