Adding floating witch hats with lights to your home for Halloween is easier than you think. You only need a few items that can be purchased on Amazon, maybe the dollar store and a few tools.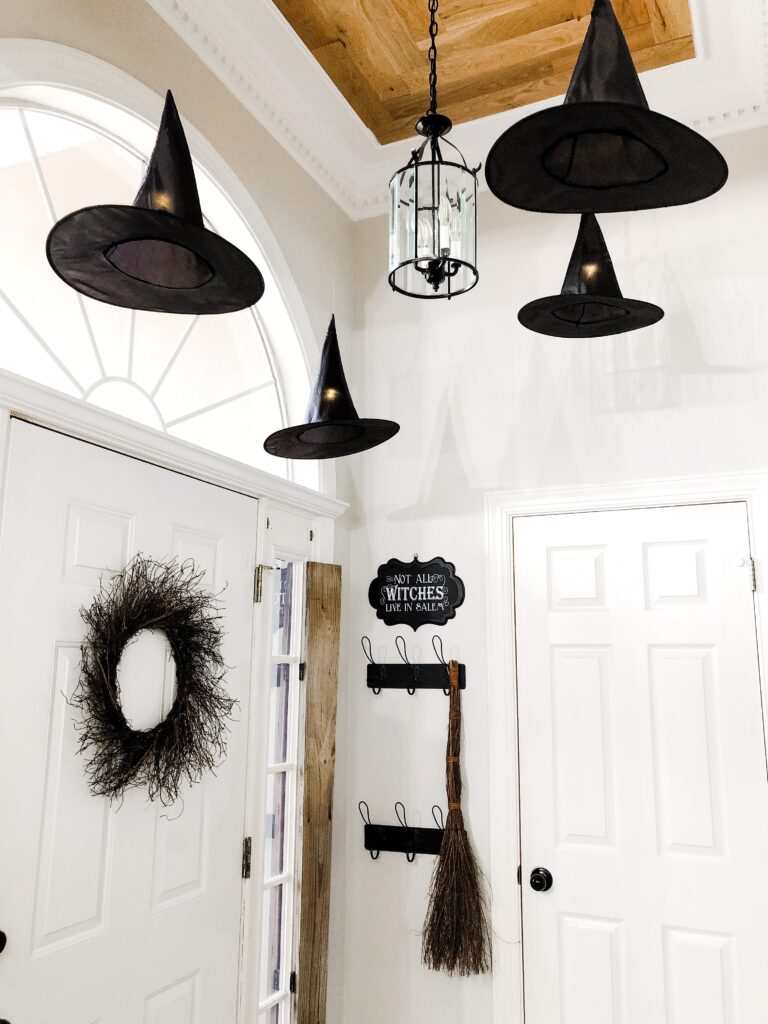 This post contains affiliate links, which means I receive a commission if you make a purchase using the links below. All opinions are all my own.
Floating witch hats have become very popular. My girls and I added them to our Halloween decor last year. My daughter, who is a little "extra" wanted to add some magic to these floating witch hats. This year we added some remote control timed tea lights to the inside of these hats. The tea lights appear to be floating inside the hat as well.
supplies needed
Witch hats – I could not find them at the dollar store but you might have better luck. I purchased this set from Amazon. They fold up for easy storage
Fishing Line or Thread
Needle
Clear command strips. *We used wood tacks that went in between our ceiling planks.
Ladder
Wire
Pliers
Hot glue gun
how to hang Floating witch hats with lights
The porch and entry are great spaces to add these floating witch hats. Above a table is another great option for placement. Map out your floating witch hat placement by placing them on the floor. Once you are happy with the placement you can get the command strips ready to hang on the ceiling. We used wood tacks. Our entry has wood planks and we placed the tacks in between the planks. I normally wouldn't put holes on my ceiling but you can't see the holes with the wood planks. Command strips normally say to wait an hour before hanging anything from them so while you wait you can start working on the tea lights.
I tried a few different options with these lights. Using a hot glue gun and wire worked the best. Cut a piece of wire to attach to the tea light. The size will vary depending on your witch hat. Hot glue that wire to your tea light battery cover, as shown below.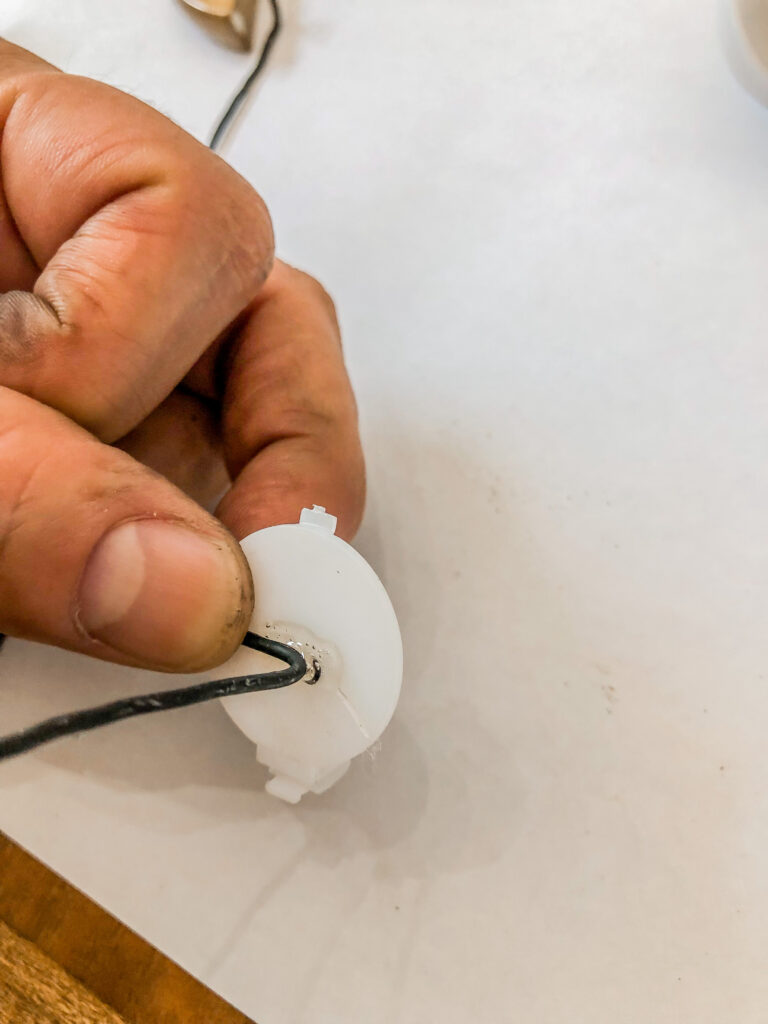 Once the glue is dry you can replace the cover and tie some fishing line to the other end of the wire.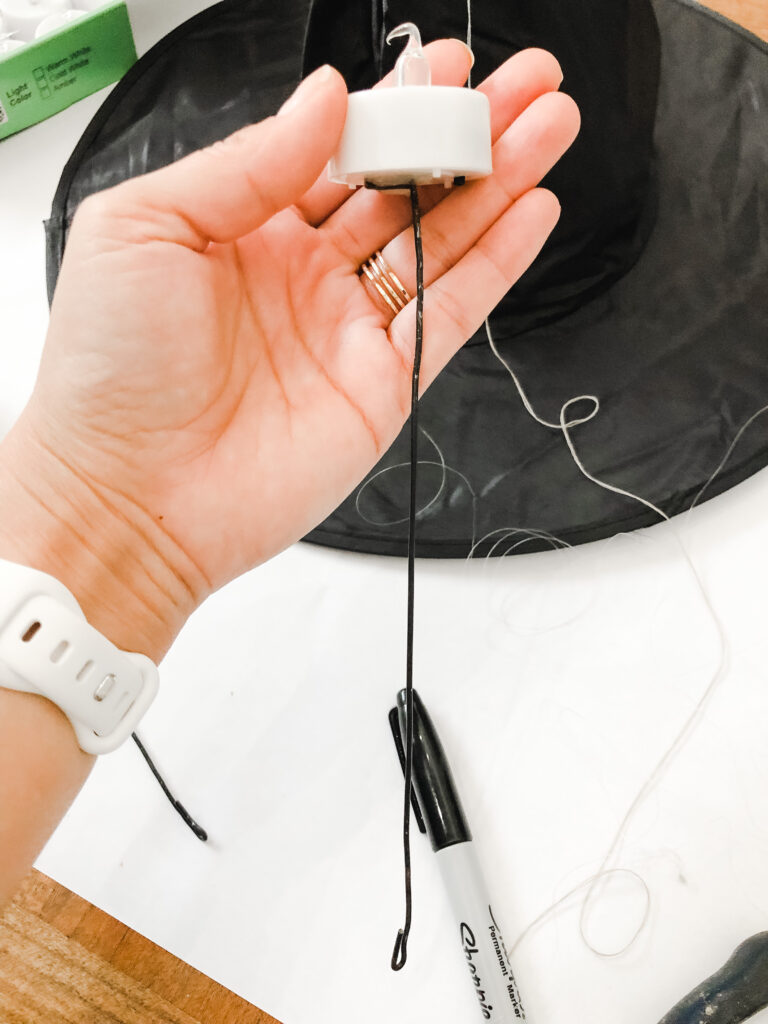 Grab the needle and thread the fishing line. Insert it through your witch hat. That thread should then come out of the top of the witch hat. You will then use that line and tie it to the clear command strip.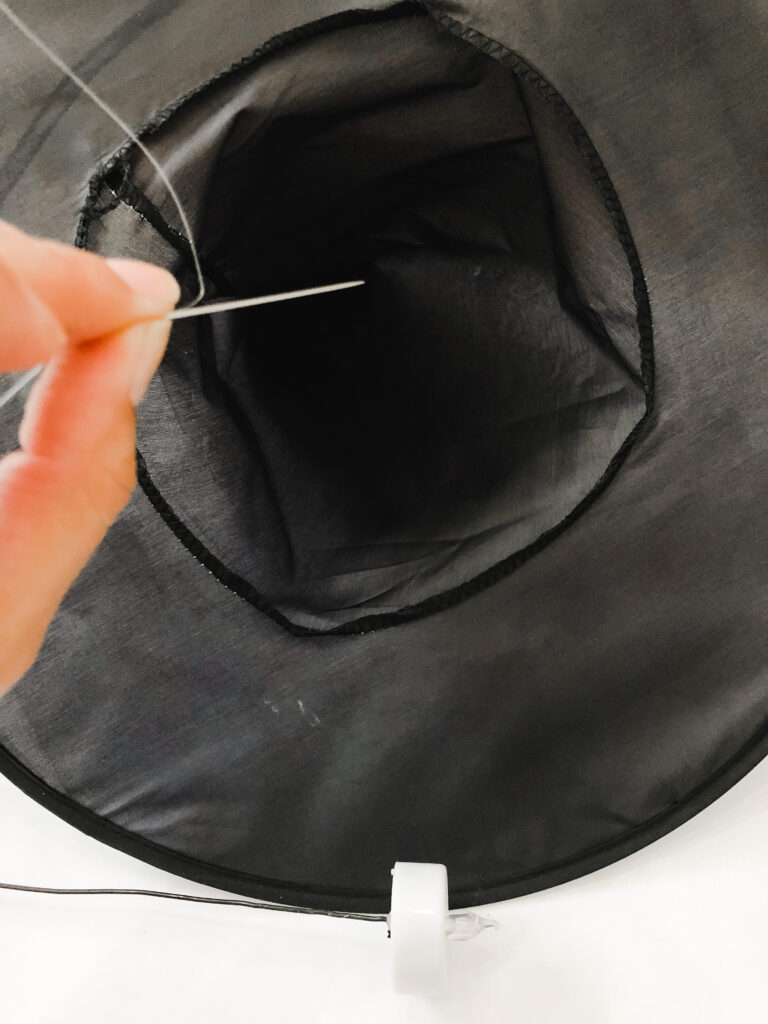 Get the family involved. You will need extra hands to hold the ladder and hand you hats. And since you have the family together here are a few more DIYs for Halloween. These DIY witch brooms would also look great suspended from the ceiling. If you are looking for more of a painting project you can make these cute paint and stencil Halloween decorations and create a cute Halloween fairy garden.
Have a wicked time and let me know how it went.
❤️Luci