Halloween decorating doesn't have to be over the top. Small spooky touches can have an enormous impact, especially on tables. I will show you how to create easy Halloween table decorations. These ideas can be easily done on any table.
Halloween table decor #1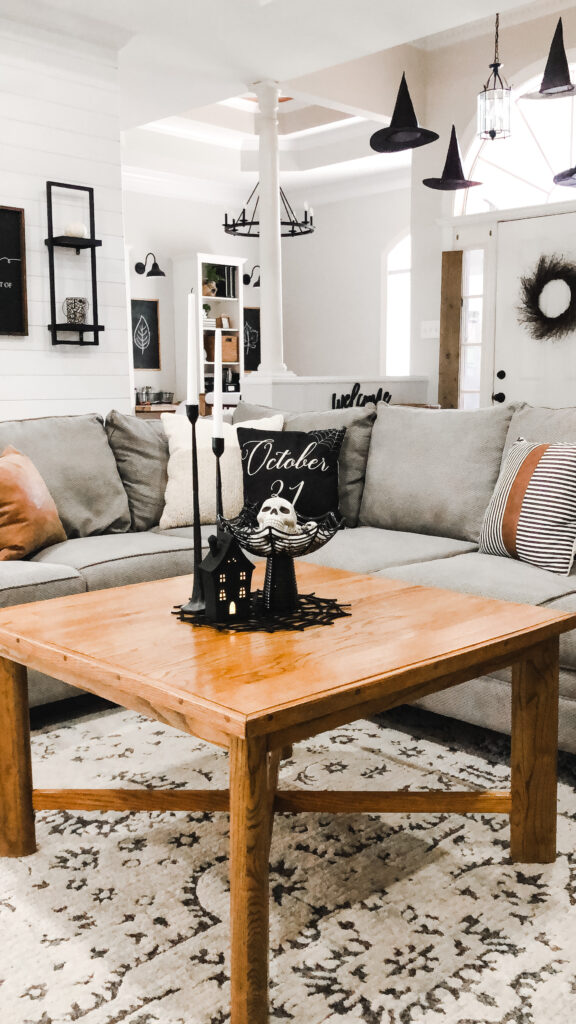 This post contains affiliate links, which means I receive a commission if you make a purchase using the links below. All opinions are all my own.
I have styled this coffee table three different ways. You will notice a theme with these different styles. There is always an anchor. I used a spiderweb placemat to anchor these items together. Placemats, trays, and mirrors make fantastic anchors on tables. Simple candlesticks add height dimension. Now the whimsy. I made this fun pedestal bowl with dollar tree items. I glued a Halloween spider bowl to the bottom of a black toothbrush holder. Tada, chic modern decor for a few bucks. Bowl fillers?? You can add skulls as I did, or candy. With 3 kids under 15, skulls were a better option for this mama. Lastly the moody part or lighting. In this table decor style, I added a scary house with a remote tea light. These tea lights are amazing. They come with a timer so they magically come on every night.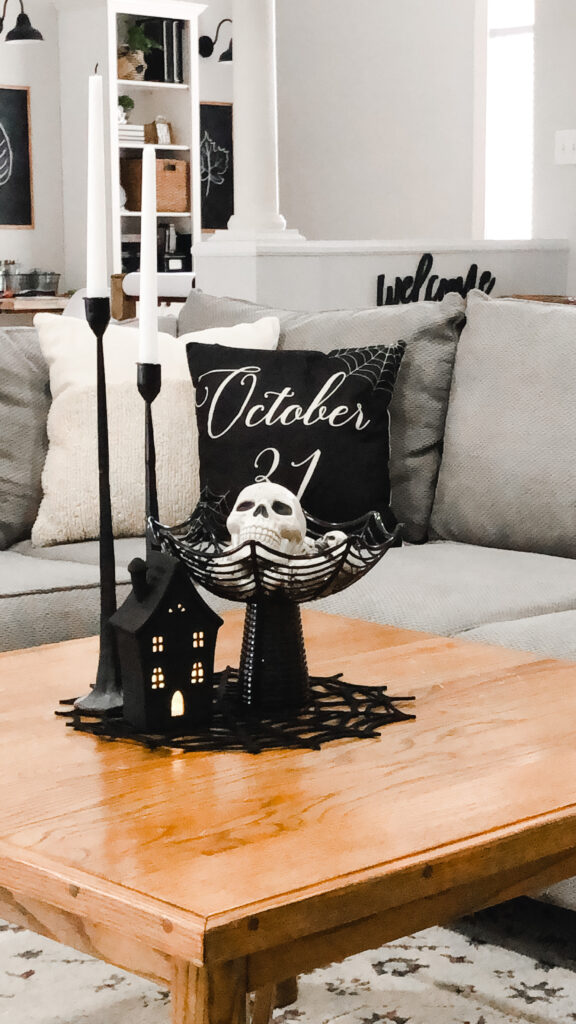 Keep in mind these Halloween vignettes aren't just for coffee tables. They would look great on an entry table, dining room table, or a Halloween centerpiece for a party.
Halloween table deor #2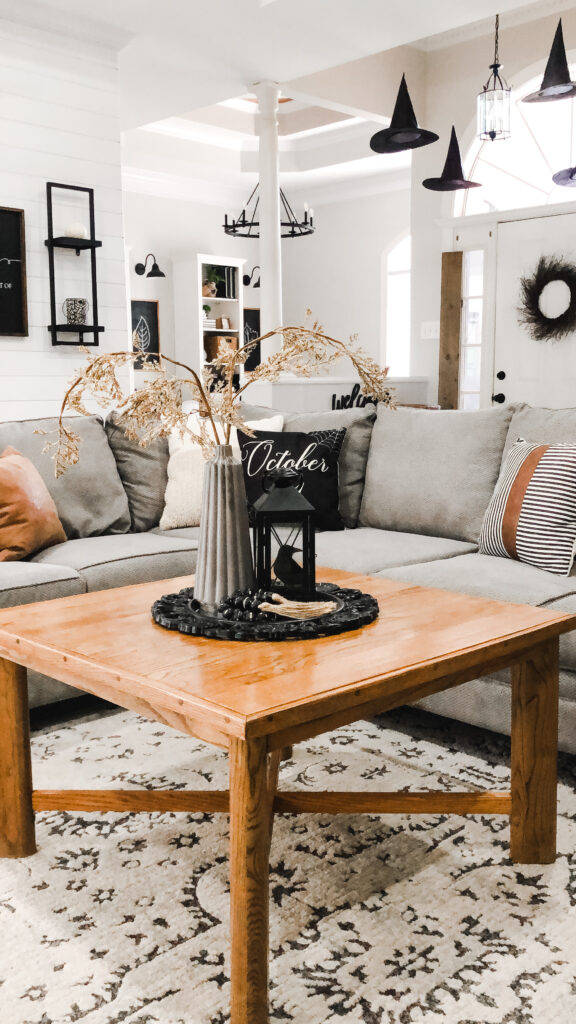 This Halloween styling was my favorite because it was so easy to transform into Halloween. The anchor here is a small round black mirror. Using something that is the opposite shape of the table adds contrast and interest. If you have a round table, a small square mirror would be your anchor. Next, the height. Here a vase with some fall florals adds dimension. The whimsy is the raven in the lantern. It is an unexpected spooky surprise in a somewhat formal elegant styling.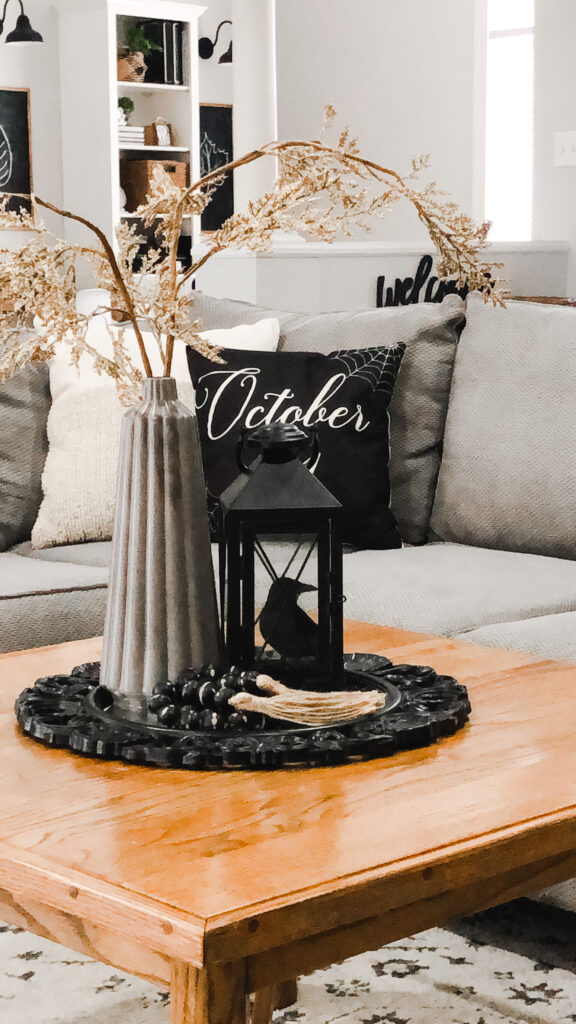 Halloween table decor #3
This last Halloween table idea is great for book lovers. If you have a collection of scary/thriller novels now is the time to corral them up and use them as decor.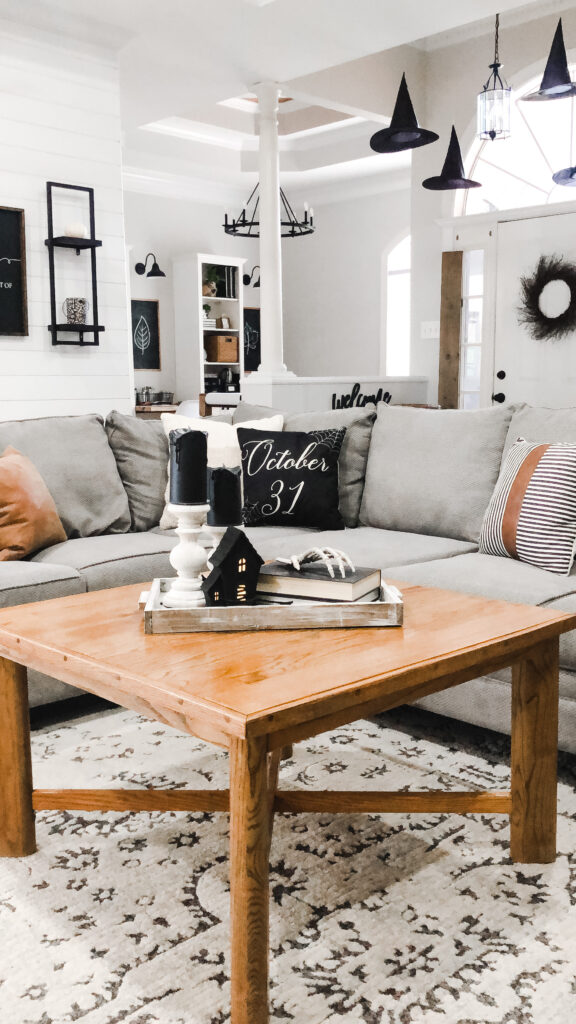 The anchor here is a rectangular tray. I like to use a different tone or color for an anchor to add contrast. You can either lay the books down and stack them. I don't have much of a collection. I used my Jurassic Park books stacked on top of each other. If you have an exciting collection stack them upright so you can read the titles. Use bulky candleholders as bookends. Adding some skeletons, either a hand or skull would also work as bookends and would be your whimsy touch. You can switch to black candles for a more goth look as well.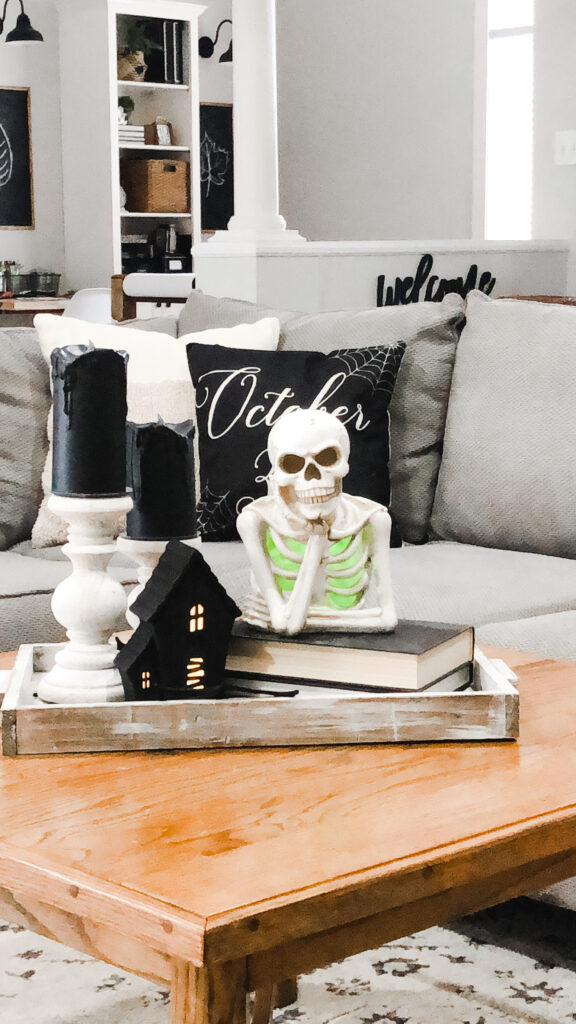 Adding lights or decorative items with lights adds so much moody vibes to your Halloween decor. If you are decorating for just a night or two glow-up sticks are great options. I mentioned tea lights earlier. They are scattered all over our home for Halloween. They are even in our floating witch hats. I have the details on that here. I hope these easy Halloween table decoration ideas inspire you to add some spooky fun to your home and parties.