Easy Halloween breakfast idea that you and your kids will love to create. A cinnamon roll skeleton using canned cinnamon rolls and icing.
I am so excited to share our experience making this Halloween treat for breakfast. I saw my friend Alieta from alietatreasurehunting on Instagram making this cinnamon roll skeleton. She is a doll and so relatable as a mama and when I saw her video, I knew we had to try! I got to say it was extremely easy. Let me show you!!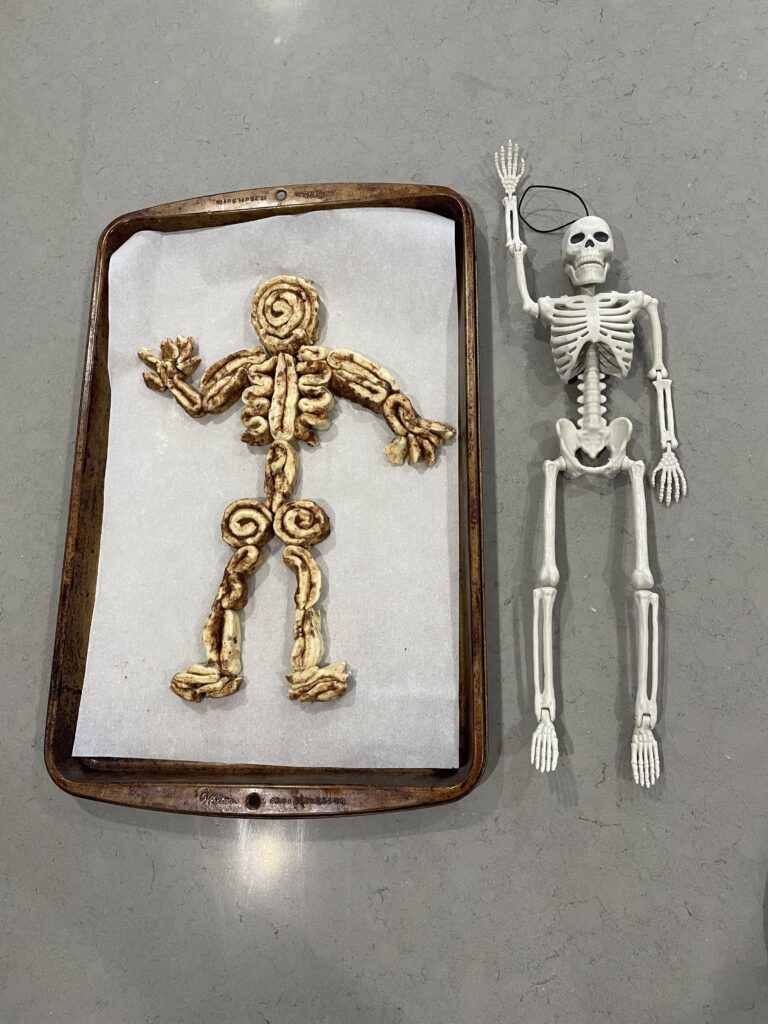 This post contains affiliate links, which means I receive a commission if you make a purchase using the links below. All opinions are all my own.
Ingredients/supplies needed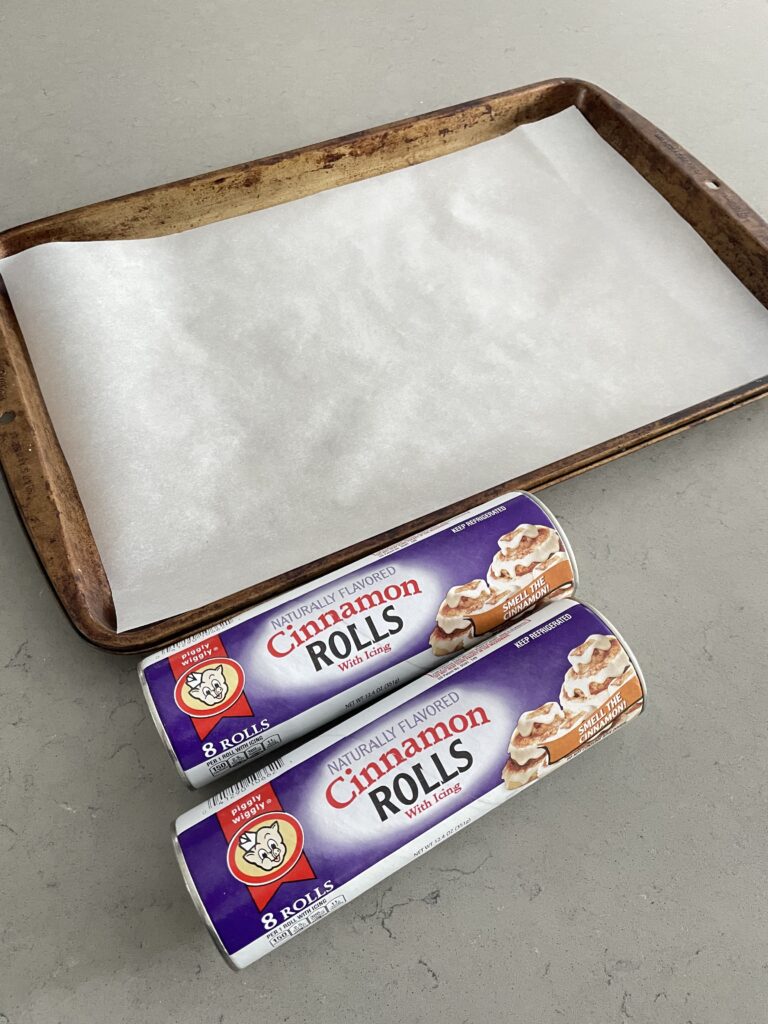 I had two generic cans of cinnamon rolls. I have found from experience that these unroll very easily into shapes. The Pillsbury ones DO NOT. These were from Piggly Wiggly but any generic store brands will work. You really only need one can, unless you are feeding an army or teenage boy.
Cinnamon Skeleton
We used a posable skeleton for reference, but feel free to use the picture above. Once you have a template of sorts it's easier than you think to put it together. If you can draw a stick figure you can do this.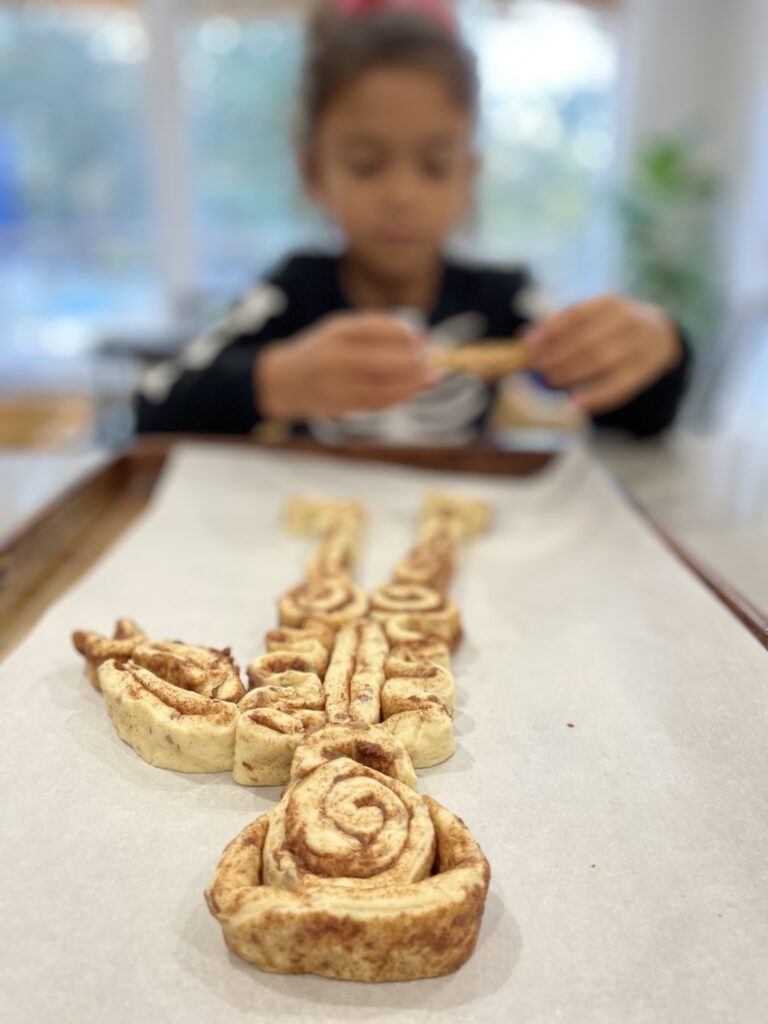 UNROLL and SHAPE. That's it!! My little who is 8 had so much fun creating this. I helped her create the squiggly part of the ribs and gave her the idea for the hips. Other than that she did it. She was so proud of herself. I loved watching her add the finger and feet "bones."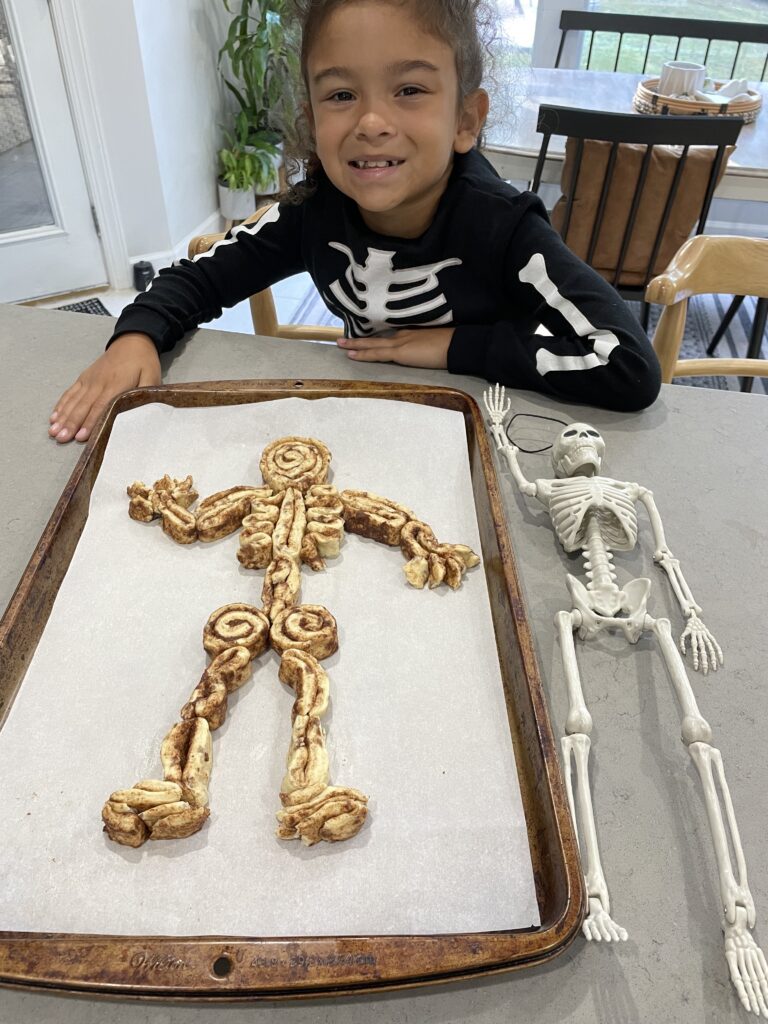 This is what it looked like before we put it in the oven. Isn't she cute? Cinnaskelly I mean. My baby is looking cute too with her favorite Halloween jammies that glow in the dark. We opened two cans but really didn't need the other can for the skeleton body. She made ghosts with the rest of the rolls. The best way to explain how she made the ghosts was by making skinny rainbows.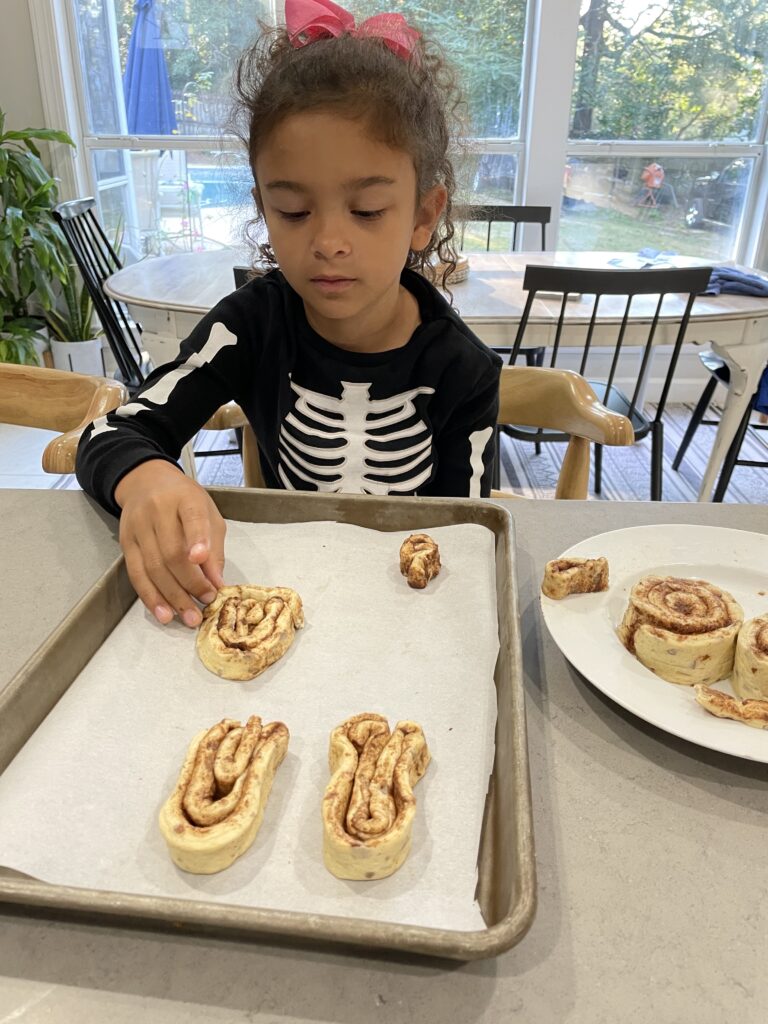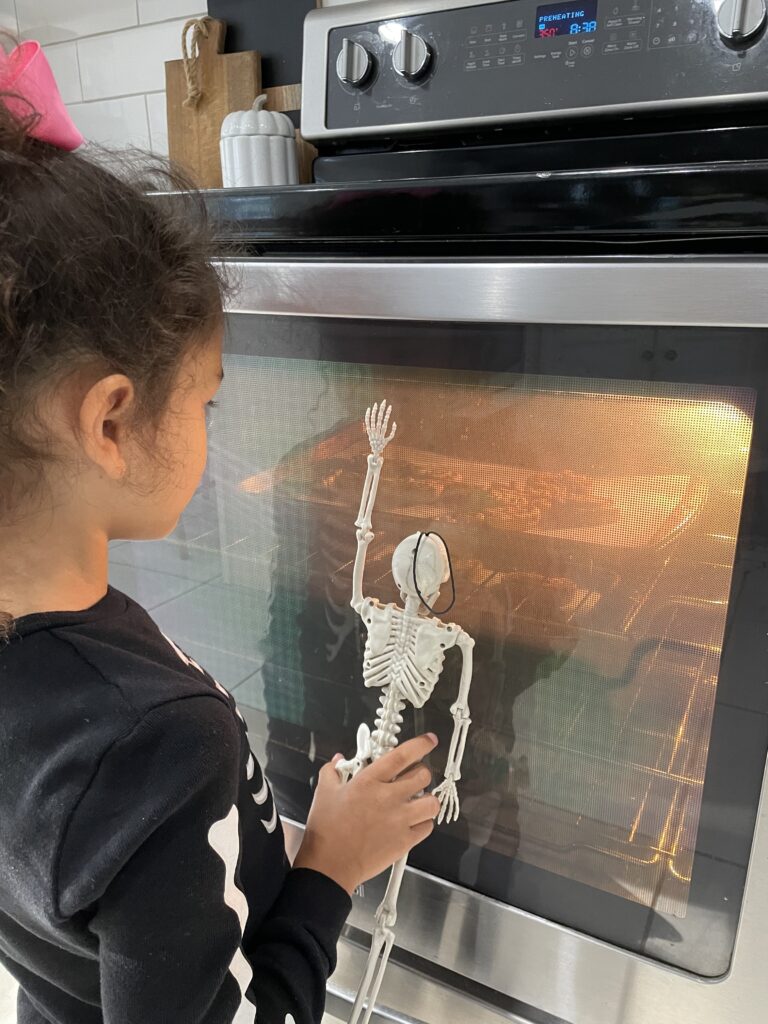 Here she is anxiously waiting for her Cinnaskelly and Cinna Ghosts to bake. I put them in the oven for 15mins at 375 degrees.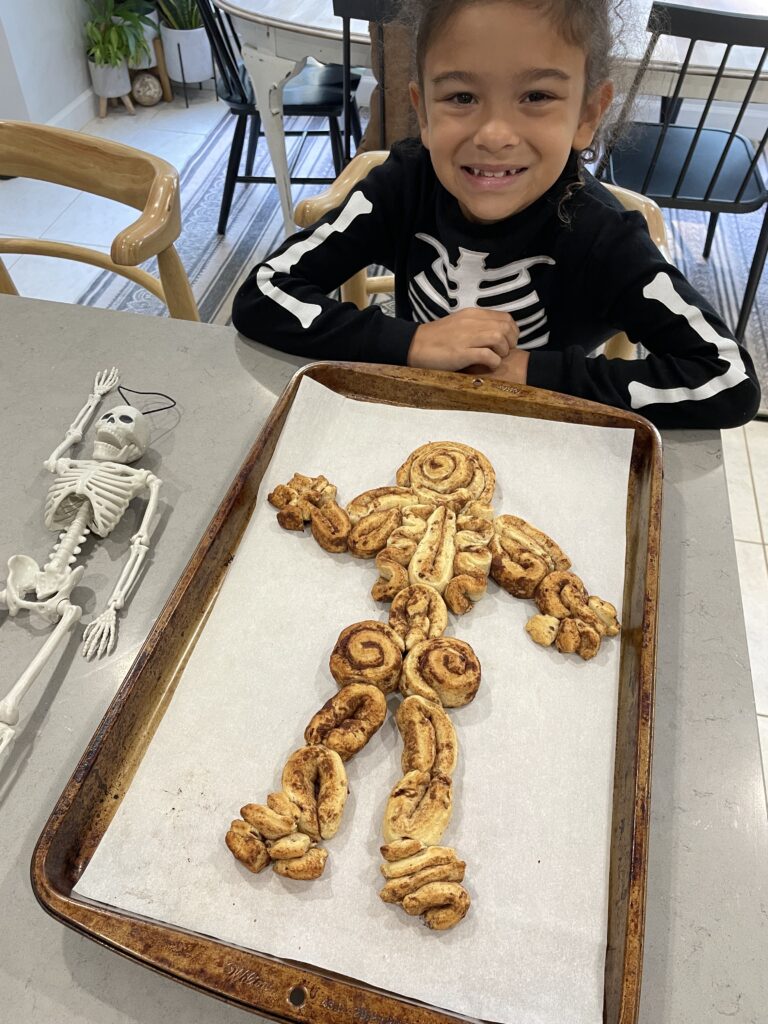 Cinnaskelly came out looking very buff 😬😆 You can learn from this and make the arms skinnier, if you'd like 😉 I snipped the icing that came with the cinnamon rolls and she drizzled it all over the bones and ghosts. A small snip works best. We used mini chocolate chips for eyes on the ghosts. She felt like she was a contestant on Nailed it.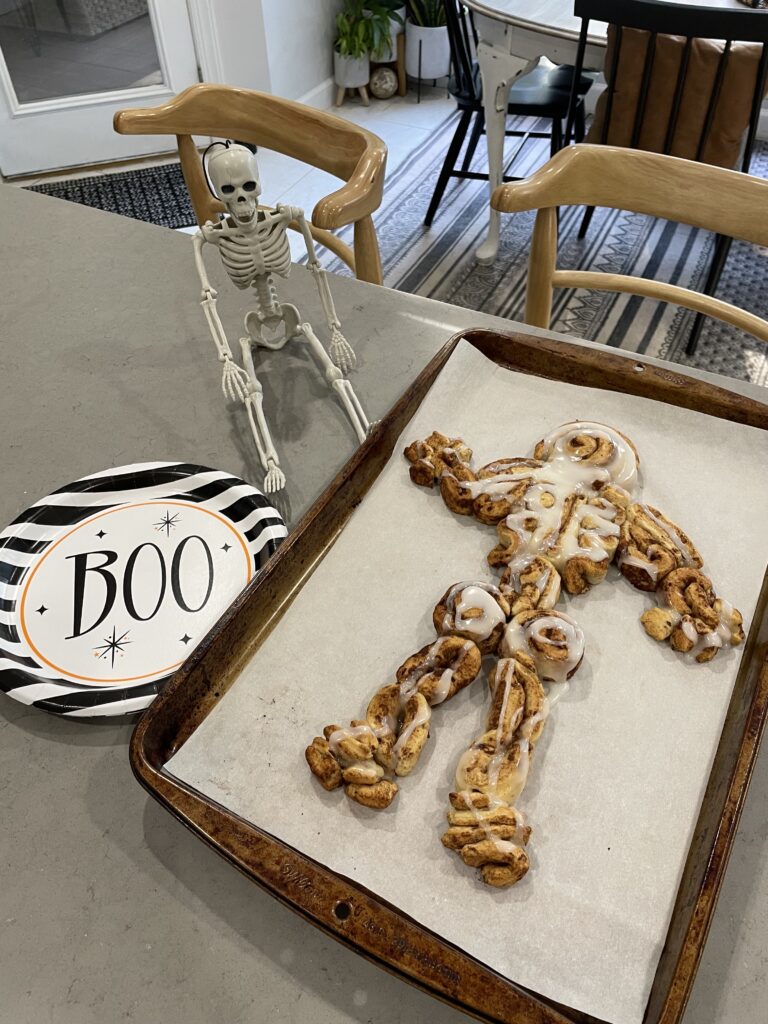 We left Cinnaskelly on the cookie sheet but you could transfer to a pretty platter and glue her together with icing if she falls apart 😉
If you are parent that loves easy, messy free treats this is for you and your kids. I highly recommend it. Your kiddos will have so much fun and be so excited to see their wicked masterpiece.